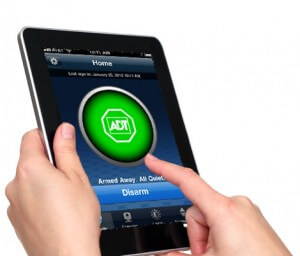 As so often happens, summer flew by and fall is suddenly here. With it come shorter days and longer nights–nights that will get longer as December approaches. Before you know it, many of us will be leaving and coming home while it's still dark, off to work or school or other tasks.
The evening dusk makes me want to light a fire in the woodstove and turn on lots of lights for a feeling of comfort and security. And that's not just a psychological reaction to the coming of fall: Those lights might represent security, but they help to provide it too.
With October upon us, Halloween approaching, and winter close behind, it's time to take stock of the lighting inside and outside of our houses, to make sure we're doing all we can to keep our homes and families safe and secure.
Inside the house
If you have a home automation system, use it to put your lights on timers, so they come on when it starts getting dark whether you're home or not. (If you don't have a home automation system, invest in some timers rather than leave lights on all the time.) There are two safety reasons for having your lights turn on automatically:
1. It gives the appearance of someone being home, to help deter burglars.
2. It makes for a safer homecoming when the lights are already on, so you or your kids can see when first coming in the front door. (Bonus: It makes for a welcoming homecoming too!)
Fall is also a good time to reevaluate the lighting you have inside the house. Are there any dark corners or stairways that could use better lighting to be safer? How about at night? Is there sufficient lighting for someone who might get up for a drink of water to find their way? Take note of where the indoor lighting could use some improvement, and act to make it so.
Outside the house
You want good lighting outside the house for the same reasons as you do inside: to deter burglars and to keep you safe. Outside, however, this can be a little trickier to achieve as you'll need to go outside and figure out just what is dark, possibly by fumbling around.
During the evening when it's dark, take a flashlight and walk your property. Look at it objectively, from as many angles as you can including curbside, and evaluate it for safety. Ask yourself:
Are sidewalks and pathways clearly lit, not only for your family, but also for visitors who might not be as familiar with your house and yard?
If you have a shop or detached garage, is your way to it clearly lit?
Are there dark corners where someone could hide?
If you have stairs, maybe up to your front porch or down from your deck, are they well lit to prevent falls?
Consider everything you can think of, even the corner where you tuck away your garbage and recycling bins. Then take steps to increase and improve the lighting of your house and yard to make it safer. As a bonus, you'll probably find that increasing the lighting improves the curb appeal as well!
As you're increasing your outdoor lighting, however, keep in mind these three caveats:
1. You don't need to light all of your yard all of the time. Motion sensors can be a huge help in providing light only when and where needed. Perhaps a soft light can light a general area, but a motion sensor can turn on a brighter light as you approach.
2. Be mindful of the kind of lighting you choose for outdoor security. Really bright lights that shine like a spotlight on a certain area will likely lead to darker shadows in the surrounding areas. Choose lighting that will make corners and safety hazards visible without creating blatantly bright and dark areas.
3. Be a good neighbor and carefully aim your lights so you're only shining them in your yard and not anyone else's. In particular, make sure you're not pointing your lights at anyone's windows!
We can't tell you exactly what you need to do to make your home safer inside and out, since it varies by home. But we can tell you to just do it, because safety and security are always top concerns. And when you're done, you can relax by the fire in the glow of your carefully lit home and let winter come.