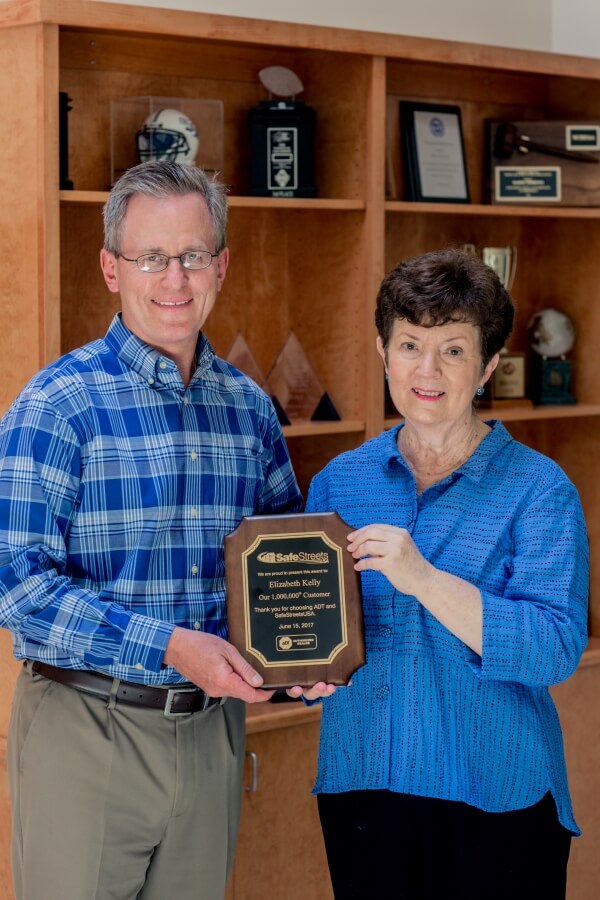 On June 15, 2017, we recognized our 1 millionth customer with a ceremony at our Garner, NC office. During the meeting, SafeStreetsUSA CFO Scott MacArthur gave customer Elizabeth Kelly a plaque recognizing her as the 1 millionth customer as well at $1,346 – the cash equivalent of 1 million minutes of monitoring. SafeStreetsUSA is an ADT authorized dealer.
"It was an honor to meet and recognize Elizabeth," said MacArthur. "We are proud of this achievement and we look forward to providing a great product and service to our next 1 million customers in the years ahead."
SafeStreetsUSA is a consolidation of several ADT dealers who started in the industry 20 years ago, including current partners Kevin Gaylord, Mark Sessa and Curtiss Weinstein as well as retired owners Todd Herman, Barry Simmons and Mike Robson. Each grew their own ADT dealership in a different part of the country and have consolidated as SafeStreetsUSA over the past 10 years to become a national company with a footprint covering almost 90% of the population of the U.S.
SafeStreetsUSA set to serve the next 1 million customers
The company won't be resting on any laurels, however. Recognizing the 1 millionth customer is both a milestone and a benchmark for SafeStreetsUSA and the vision for the future. "We want to continue to grow the company and provide great products and services to each customer," said MacArthur. "We strive daily to provide a best-in-class customer experience throughout every part of the sales and installation process. There has been great change in the industry in recent years and there are lots of great products that enhance our customers' daily lives and improve their security, whether they're at home or away."
MacArthur emphasized that the company takes the responsibility of protecting customers' families, homes and possessions very seriously. People become customers of SafeStreetsUSA for a variety of reasons. Some want the newest in home automation, while others have had a life change such as a baby or a traumatic event like a burglary or fire.
"Regardless of why they come to us," he said, "we strive to offer each one the best products and protection for their home and their needs."
Our 1 millionth customer is a satisfied customer
Before discovering she had become the 1 millionth customer and the subject of so much attention, Kelly was more than satisfied with the home security services provided by SafeStreetsUSA.
"When I first contacted SafeStreetsUSA, the representative was very professional and recommended features that he thought would most meet my needs," said Kelly. "The installer was also very professional and made sure I understood all the features of my system before he left my home. With SafeStreetsUSA, I feel confident that my home is protected when I am at home and when I am away from home."
Although future customers are unlikely to be recognized in such a public way, Kelly encourages all homeowners to make sure they are protected with a home security system. "Do it," she said. "Don't just think about it. It seems that the number of home break-ins is increasing. Don't put you and your family at risk."