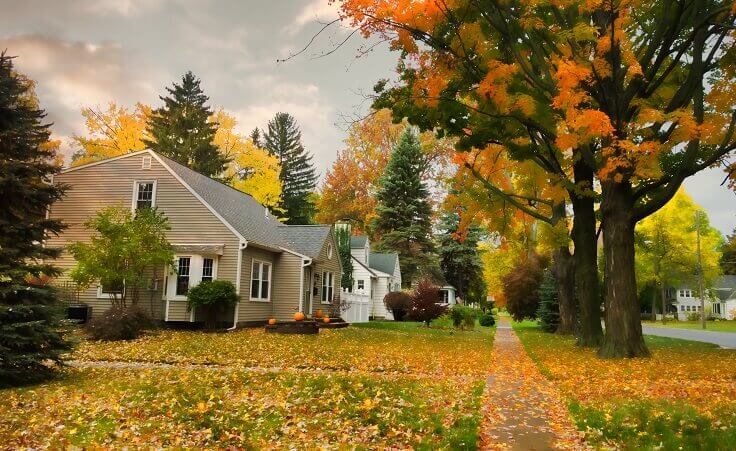 With the arrival of September comes a change of seasons as we head into fall and a change of schedules as the school year gets underway.
It's also a great time to evaluate your home security, as days get shorter and people spend more time away from home.
With that in mind, below are some tips for doing a DIY home security inspection—with some handy checklists you can print out to use.
Take a street view
The first time a burglar sees your house, it will be from the street. So start with a street view. Is your house appealing to a burglar? Think like a burglar before you answer that question.
Is there signage in the yard warning that you have a home security system? Are there bushes providing hiding places, windows that are easy to reach, or poor lighting at night? Is it obvious when no one is home during the day? Are there any cars parked outside the home when it's vacant? (Remember that most home break-ins happen during the day while people are at school and work.)
Take a night view
Next consider your home from the street in the dark. Evaluate your lighting. Yes, most home break-ins happen during the day, but not all. Are there shadows and unlit areas that offer a burglar a place to hide while breaking in? And remember to check your garage and outbuildings too.
Walk through the yard
Do you have bushes to trim back away from the house, especially near windows or doors? Are you finding hiding places and easy access to entry points? Again, consider outbuildings too.
Check all of the windows
Make sure all of the windows lock in both closed and open positions, and that you keep them locked. When locked in the open position, make sure the opening is too small for anyone to get through. If you're not sure your locks are strong enough, consider installing additional locks. Any local hardware store can help you determine what kind of locks you'll need.
Check all of the doors
The same advice applies to your doors: Check the locks, but also check the construction. Consumer Reports has a very quick rundown on locks here, as well as good advice about doors and strike plates.
Turn the lights on
Review your use of lighting both during the day and at night, and when you're home and not home. As mentioned above, check outside for lighting issues at night, but also consider whether your home looks occupied during the day when no one is home by reviewing your use of inside lights. A home security system can enable you to put lights on timers so they turn on and off at varying times.
Review your home security system
If your home security system is an older one, you might be missing out on some of the capabilities offered by newer ones, such as home automation features and remote access to the system. Also consider how it's set up. For example, if you have video cameras, are they still in the most useful places or should they be moved? And it's always a good idea to do a gut check and make sure you've been happy with the service and responsiveness of the company you've trusted to provide your home security system!
Download and print out a home security checklist
Home security checklists abound online. Below are three handy checklists we thought particularly useful. Print out one or more of these and use it as part of your home security inspection if you want to be more thorough in your inspection:
Call on a professional
Finally, consider contacting your local police department to find out about any information they have on doing home security inspections. They will know the particulars about crime in your neighborhood and might have insight you hadn't considered. You can also call on a home security company if you're considering installing or upgrading a home security system. Find out what kinds of audits they might offer as part of their services.