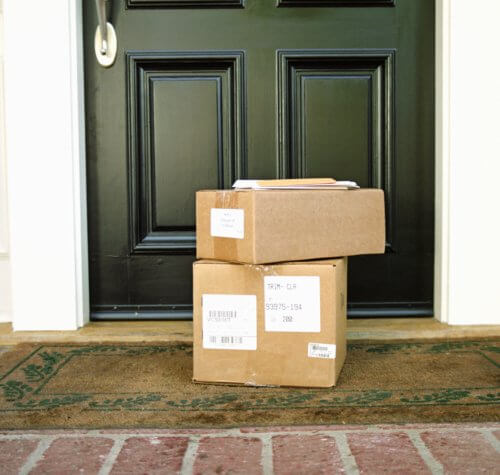 Let's call them front porch fouls, shall we? That quick little theft that makes off with your newly delivered package in just a half a minute…from right outside your front door. Think that's not a worry in your neighborhood?
Take a quick look on YouTube, and you can find all kinds of video footage of packages being stolen from doorsteps—video captured by home security cameras. Sure, the theft was recorded. But that doesn't get the package back, does it?
Doorstep theft is nothing new, but our ecommerce economy leads to more of it, because there are more packages to pilfer. In 2014, over three-quarters of the U.S. population bought something online. And when you buy something online, what happens next? It gets delivered—to your doorstep. And that's where (and why) precautions are now needed.
It's not only about your purchases, however. You're protecting your home too when you take these kinds of steps. Burglars are looking for potential targets. Packages left on a front doorstep tell burglars, "Hey, look at me just sitting here. That's because no one's home. Come on in!"
To avoid being victim of one of these front porch fouls, try one or more of the following tips:
First, see if you can time the delivery of the package. I have not had much luck with this myself, but that might be because we live in a rural area where the mail is a bit less reliable. So I'd say it's worth a try. If you're getting something shipped overnight, for example, but you're not going to be home the next day, maybe you can choose the next slower (and usually cheaper) option. Or vice versa—say you're going out of town on business later in the week. Spend a little more for overnight delivery so the package arrives before you leave.
See if you can have the package shipped signature required. That might delay the arrival of your package, if you're not home when it's delivered that first time. But if the package is important enough, it might be worth that risk over the risk of having it stolen.
If you have trustworthy neighbors, let them know when something is expected to arrive and ask them to watch for it.
Thought someone would be home the projected day of delivery and now they're not? Some shipping companies like FedEx will redirect a package that's en route if necessary.
In addition, some shipping companies will send you an email alert when a package is delivered. If you have a neighbor you can trust, you can use the email alert to call your neighbor and ask them to get the package off of the front porch for you.
Have it delivered to your workplace or another address, such as a family member's.
Some delivery companies will put the package in a specific place if you request that, say, at the side door, or somewhere that can't be seen from the street.
Have a home security system. That's a good way to deter burglars of every kind, even the doorstep ones.
Protect yourself from front porch fouls—and your home from being a target for something bigger later—by practicing some package protection for those doorstep deliveries.