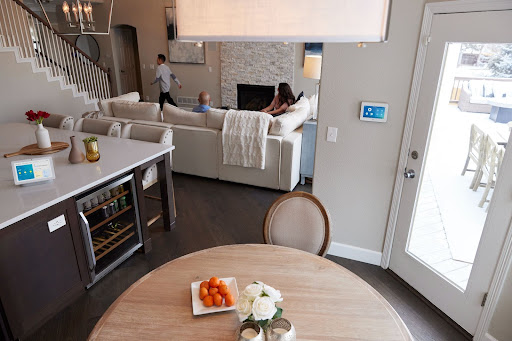 Have you ever imagined how nice it would be to turn on your coffee maker in the morning from the comforts of your bed? Or how about switching on the lamps in your living room while you're driving home from work?
You don't have to take a time machine into the future for these luxuries – they're already here! You can now turn just about any appliance or device into a "smart" device with the help of smart plugs installed by the professionals at SafeStreets. Doing so can help you monitor your energy usage and even save money.
Don't let the word "smart" in front of their name fool you – smart plug devices are incredibly easy to use, not to mention cost-effective. Keep reading to learn more about how smart plugs work and the benefits of having them installed in your home.
How Do Smart Plugs from SafeStreets Work?
As you know, regular appliances work by plugging their power cords into one of your home's electrical sockets. To turn them into smart appliances, you simply need to plug the smart plug into the outlet and the appliance into the smart plug.
Smart plugs use Z-Wave technology modules that can connect with your smart devices or smartphone, allowing you to control your appliances from virtually anywhere where there's a Wi-Fi connection. This is incredibly handy if you forgot to turn off the iron or lamps in your home before you left for work. You can just take out your smartphone, and turn off the appliances with the tap of a button.
Features of Smart Plugs from SafeStreets
If you're already dreaming of starting your coffee maker before you even get out of bed for the day, give SafeStreets a call so we can set up an installation appointment for you.
But there's more good news about these convenient devices! Here are some of the additional features you'll receive when you install smart plugs throughout your home:
Work with Google Assistant. If you're at home and don't have your smartphone with you, you can simply use your Google virtual assistant and ask to have appliances or lights turned on and off.

Light dimmer. You can even use smart plugs to dim the lights even if your light doesn't have a dimmer.

Space-Efficient Design: Smart plugs don't take up any more room on your outlets than regular plugs do. You can plug your smart plug into the top outlet and still use the bottom outlet for another device.

Universally Compatible. Smart plugs are compatible with all types of light bulbs, including incandescent, LED, CFL and halogen.

Schedule Appliances to Turn On. You can set your lights or appliances to turn on and off at a certain time each day. This can include having the lights turn on at 8 p.m. when it gets dark outside.
Contact SafeStreets for Installation of Smart Plugs
Whether you want to turn your lights on during your drive home or check that you turned the iron off before you left for work, smart plugs add a level of convenience we're sure you're going to enjoy. To learn more about smart plugs or to schedule an appointment for installation, don't hesitate to reach out to the professionals at SafeStreets today.