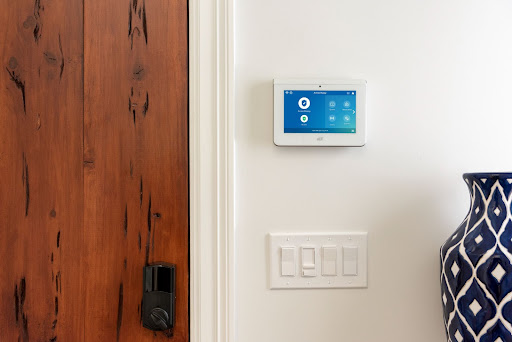 If you've ever heard the sound of glass shattering, you know it makes a very distinct sound. If you ever hear this scary sound in your home, ensure that it's immediately followed by the sound of your home's security system going off. You can help ensure that happens by installing glass break sensors from SafeStreets throughout your home.
Breaking a glass sliding door, glass doors, and windows is one of the most common ways for burglars to gain entry into your home, but you can help prevent this with glass break sensors. Keep reading to learn more about the advantages of installing glass break sensors.
How Do Glass Break Sensors Work?
SafeStreets offers two different types of glass break sensors – shock and acoustic. Although they work differently, they are both designed to do the same thing: detect the sound of shattering glass in your home.
Shock glass break sensors work by "feeling" the disruption caused by breaking glass. This type of glass break detector needs to be installed directly on the window in order for them to work properly. Acoustic glass break sensors, meanwhile, are designed to "hear" the sound when glass breaks. Because of this, acoustic glass break detectors do not need to be installed on the window and can instead be installed in locations throughout your home. SafeStreets' glass break sensors have a radius of 25 feet, which means one glass break sensor can cover multiple windows and doors.
When one of the ultra-sensitive glass break detectors picks up the sound of shattering glass or feels a disruption, our 24/7 ADT-monitored glass break sensors will trigger an alarm. You'll then receive an immediate notification to your smartphone or other smart devices, whether you're at home or away at work, or on vacation. An ADT monitoring professional will also be notified immediately and can contact the authorities to send help right away.
When you work with a member of the SafeStreets' team, they will help you find the best locations around your home to install our glass break sensors and help ensure total coverage throughout your home. The best locations to install acoustic glass break sensors are typically high on ceilings and walls and in areas that are not obstructed from the sound of glass breaking. They will also help you understand exactly how these sensors work to make sure you know how to properly use them.
Additional Features of SafeStreets' Glass Break Sensors
SafeStreets' glass break sensors come with a full range of features so you can get the most out of your home security system.
Four sensitivity settings.

You have four sensitive settings from which to choose, including maximum, medium, low or lowest sensitivity. This will help limit false alarms. You can use the sensors' testing feature to find the best setting for you.

Professional installation

. SafeStreets is the largest ADT Authorized Provider in the country. All of our technicians are expertly trained and will find the best place to install your glass break sensors so they are out of view of potential burglars and are able to properly detect the sound of shattering glass.

24/7 protection.

All of SafeStreets' home security systems, including our glass break sensors, come with 24/7 ADT monitoring. This means that as soon as your sensor triggers an alarm, an ADT professional will be immediately notified to send help quickly.

Versatile protection.

No matter what type of glass you have or how big or small it is, our sensors are designed and installed to help pick up shattering glass.

Flexibility.

Our glass break detectors can run on batteries which allows you to install them in locations that are most effective at detecting breaking glass.
Contact SafeStreets for Glass Break Detector Installation
SafeStreets is a customer-focused company that is committed to helping keep our customers' homes and families safe. We can help you do that by providing you with the best glass break sensors in the industry, including an acoustic glass break sensor or shock glass break detectors.
SafeStreets operates in 44 states and covers about 90% of the country, so it's highly likely you have a friendly SafeStreets' technician that works nearby to help you. Contact SafeStreets today to request a free quote or to schedule an appointment for glass break detection.