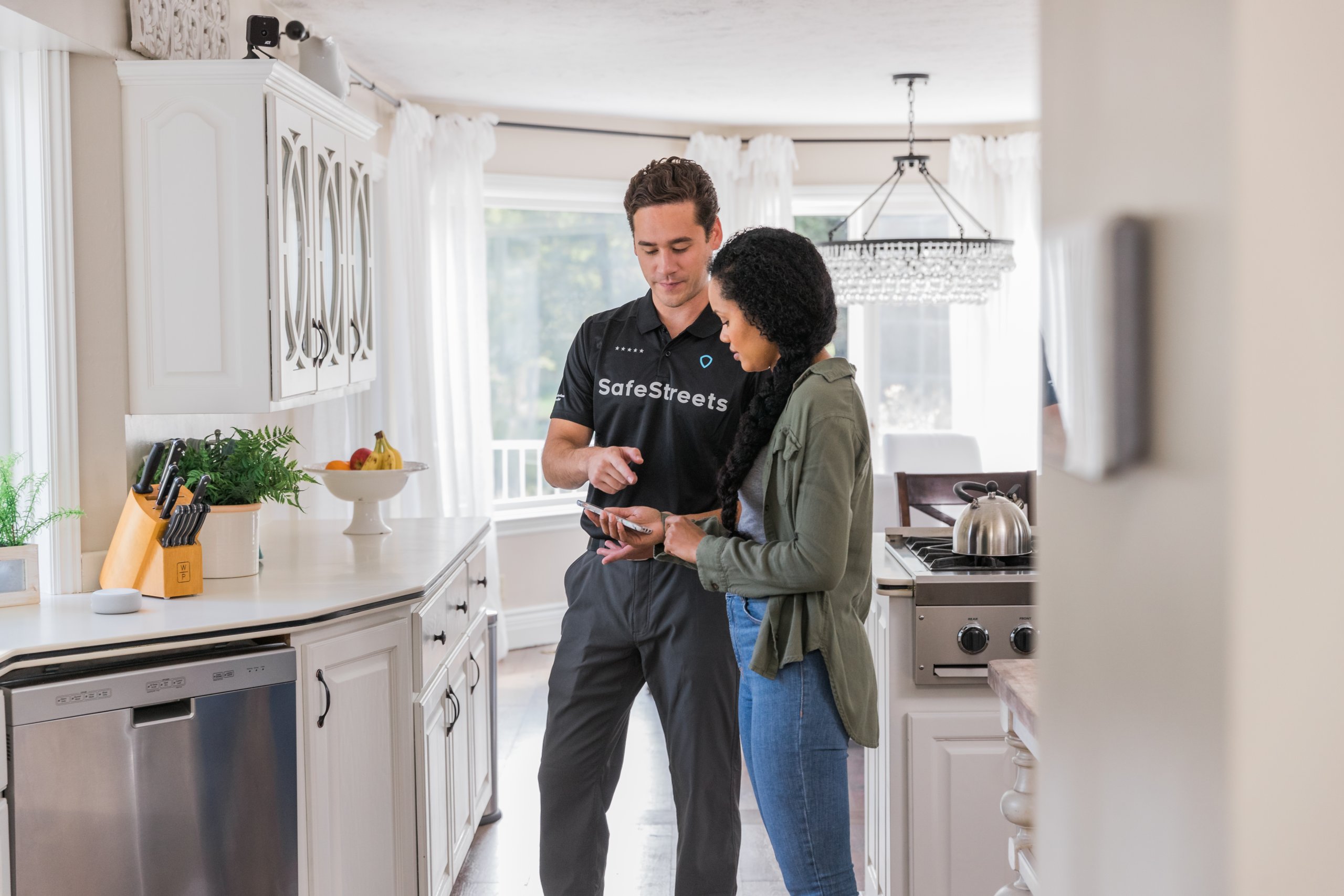 When it comes to protecting your family and property, you want the best. But with so many options on the market, it can be hard to figure out what home security systems are the ideal fit for your home and family. 
That's why we've put together this guide on how to choose a home security system. Before getting started, you'll want to ask yourself questions like these:
Who and what am I looking to protect?

How does my home size and shape affect protection?

What is my budget?
Answering these questions will set you on the right track when choosing a home security system. The appropriate equipment package, payment option, and additional features will ultimately depend on what you want to do with your home security system. Keep reading to learn more about what to look for when choosing a provider, how to decide what will work best for you, and the different package options available from SafeStreets.
What To Look For In A Home Security System
One of the main decisions you'll have to make during the home security system process is choosing which provider you're going to use. We've compiled six key things you'll want to make sure your system offers when narrowing down your choices (spoiler alert: SafeStreets provides all six!). 
1. 24/7 Professional Monitoring
Professional monitoring provides you with 24/7, 365 days year assistance if one of your alarms is triggered. This means that as soon as your system goes off, you have someone investigating the situation and sending the appropriate emergency responders to your home if necessary. All of our home security systems come with 24/7 ADT monitoring services. In over 140 years of business, ADT has never missed an alarm, so you know you're in the most capable hands for the job.
2. A Mobile App
A mobile app makes it easy for you to see and control aspects of your home security system right from your smartphone. This allows you further ease of mind and control even when you're not at home. SafeStreets home security systems can be connected to the ADT Control App where you can remote arm/disarm alarms, receive instant alerts, view live video, adjust lightning and temperatures, and more. 
3. Ease of Use
What's worse than not having a home security system? Having a home security system that you don't know how to use. Your home security system should be designed to help protect your home and family while making it easy for you to use without worry. At SafeStreets, our Smart Security Pros provide a complete demonstration of your system once it's installed to give everyone the confidence they need to run the system properly. As we like to say, the equipment helps KEEP you safe, but it's our job to help you FEEL safe.
4. Home Automation Integration
Bundle your security system with home automation options to save you time and money. From lighting control and energy efficiency to home security and video doorbells, completely automating your home puts you in control. Learn more about SafeStreets home automation options.
5. Flexibility
Just as your home may change over the years, you want the same flexibility in your security system. Maybe you finally got around to that addition you'd been wanting and now need an additional door sensor. SafeStreets makes it easy to add additional devices and/or services to your plans in the future. 
6. Seamless Design
Home security systems don't have to be an eyesore with complicated installation. With one central control tablet and multiple wireless devices, your home doesn't have to face massive redesign for an effective system. Most of our SafeStreets systems take only an hour or less to install with virtually no wiring (all of our devices can operate wirelessly) and discreetly placed cameras, sensors, and other devices. 
Buying a home security system with these six features will ensure years of safety and security for all the things you value most in your life.
Tailor Your Security System To Your Home
All aspects of your home also play an important role in deciphering what will be the best security system for you. Now that you know more about what features and options you should have in a system, let's take a look at some of those that could be affected by your home setup. 
Points of Entry
Every home has a certain number of doors and windows, each with the potential for break-ins. While ground-floor windows and doors are most crucial, ideally your home security system will have enough entry sensors, glass-shatter detectors, and/or cameras to protect and track all of your home's points of entry.
Space Size
How many sensors, cameras, and other devices you need will depend a lot on how much space you are looking to help protect. Bigger homes tend to have more devices or add-ons simply because they have more ground to cover, while some smaller homes may get by with just a few sensors and cameras. 
Who And What's At Home
Do you have kids or pets? What about valuables or collectibles? Who and what you value most in your home may determine what security options are best for you. For example, if you constantly have people or animals running around your home, a motion sensor might not do much except for detecting your own family. However, an outdoor or indoor camera can help you keep an eye on things while still retaining the protection you want while at home or away. Or maybe you have a large collection of valuables that have been passed on for generations. You might want to install extra smoke and/or fire detectors in the room they're stored in so you can prevent anything from being ruined in the case of a fire emergency. Each home security system can be tailored to your own unique family and routine. 
Home Security System Elements & Options
The term "home security system" encompasses all the different devices, technology, and monitoring services that work together as a comprehensive home protection solution. One of the best things about this is its customization for what you want and need in a system.
Home security systems will look different for various homeowners based on the size and architecture of their home, their budget, and the main aspects of their home and family that they are helping protect. Regardless of these different factors we've discussed, however, all of the best home security systems will do three things: 1) help protect your property, 2) ensure your family's safety, and 3) provide 24/7 peace of mind. 
At SafeStreets, we offer four customizable protection plans tailored to your needs and budget. Here's a look at the basic elements you'll get with a traditional plan:
ADT 24/7 Monitoring

Touch Screen Control Panel

Alarm/Siren

Image Motion Sensor

3 Door/Window Sensors

1 Keychain Remote

1 Yard Sign

3 Window Decals

Maintenance/Extended Warranty

Cellular Connection to Monitoring
In addition to the above elements, our remote, control, and video and automation plans can also include:
Smoke and Fire Detectors

Glass Break Detectors

Panic Buttons

Carbon Monoxide Detectors

Water & Flood Sensors

Remote Thermostat Control

Remote Door Locks

Lighting & Appliance Control

Garage Door Sensors

2-Way Voice

App Notifications

Remote Arm/Disarming

System Scheduling

Video Monitoring

Real-Time Video Footage

Smart Home Automation
Learn more about our different ADT monitored plans and packages here.
Need Help Picking the Right Plan for Your Family?
When choosing a home security system, trust the experts at SafeStreets to customize your system and ADT monitored package. Together, we can discover the security plan that matches the needs of your home and family. Contact us today to get started with a free quote.