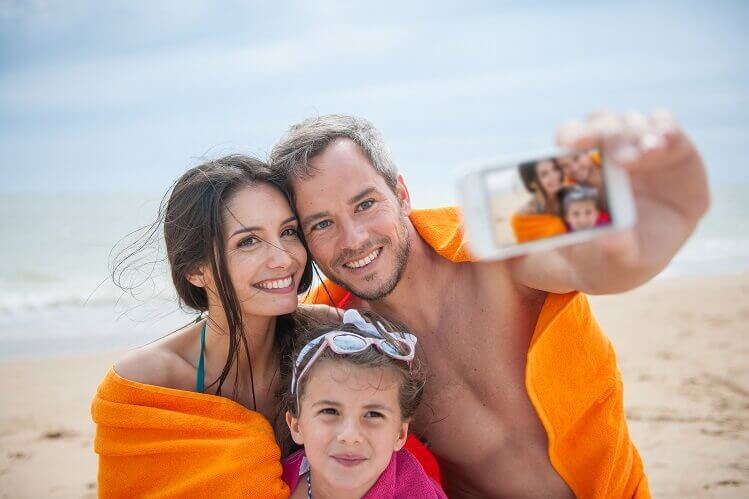 Summer is almost here! Prepare yourself for Facebook to be overrun by all the vacation photos posted by your friends and family! But as for you, the security-minded one, keep your vacation to yourself…until you get home, I mean.
Facebook is a funny thing. It seems like you're only posting pictures and comments among friends, but there is a public side to all of that posting we often forget about. And it's that public side that can put your property at risk if you're flaunting your photos while away.
I'm not saying you can't trust your Facebook friends—the real friends, I mean. But more than your friends can see what you post, or they might indiscriminately tell someone else you're gone, someone whose scruples differ from yours and who doesn't think twice about breaking into an empty house. Or if you're one of those people with thousands of Facebook "friends," it could be you're already vulnerable to the ways of the wayward person on the hunt for an empty house to burgle.
But is there any reason you have to make it public knowledge that you're gone? Not any that I can think of. So let's practice some commonsense and keep the fact that our houses are sitting empty to ourselves by following these social media safety tips.
Don't post about it your trip ahead of time
As excited as you are to be getting away for a while, keep the trip to yourself. Sure, you can tell people in person or communicate your upcoming plans to people in private ways like texting. But don't broadcast "We will be gone!" to the online world.
Don't post status updates about the vacation
If you've kept your vacation plans to yourself, good for you. Now resist the urge to boast while gone. Yes, you might want very much to share with the online world how delightful it is to sit by the pool, but you've just blown your cover and left your house at home exposed.
Don't post pictures while on vacation
Your pictures can wait! I promise! They won't expire if you don't post them until after you return home. Yes, you're caught up in the fun and you want everyone to see the beautiful beach or your cute kids or the stunning sunset. But it can wait. If you can't help yourself, just remember the unintended consequences of making your vacant home public knowledge.
Don't tag the people you're with while on vacation
If you're not worried about those consequences and you want to post pictures while you're gone regardless, don't tag the people you're with. They might not want their absence known, and they might be waiting until they return home in order to post pictures for that reason. Your tagging of them tells the world they're not home.
Remember too that Facebook will tag them for you with Facebook's photo recognition feature, which is another very good reason to wait until you're home to upload the pictures.
Note too that the people you're with might be tagging you so have a quick chat about this with them. You might also be saving them from unwittingly exposing their homes, too, because perhaps they hadn't considered the risk they were taking by being so publicly away.
One more good reason not to post pictures while gone…
This isn't a security concern, but here's something else to consider when posting your vacation photos while on vacation: etiquette. Let's be honest: Do you really need to post all 168 pictures from your day at the beach? Is anyone but you going to look at all those pictures? Wouldn't you rather have a few select pictures posted instead, so that people will actually look at and enjoy them?
When you wait until you're home to post the pictures, you can be selective and only share the best ones on social media. This accomplishes three things: 1) it ensures you won't advertise your empty house while on vacation, 2) it puts you in a better light because you share quality instead of quantity, and 3) it's just plain good etiquette.
If you want a little more advice on better manners when sharing photos on Facebook, Frommer's offers helpful advice on picture-posting etiquette.
And for a little more about related topics, be sure to also see our post about social media safety, and our post on seven tips for keeping your home safe while on vacation.