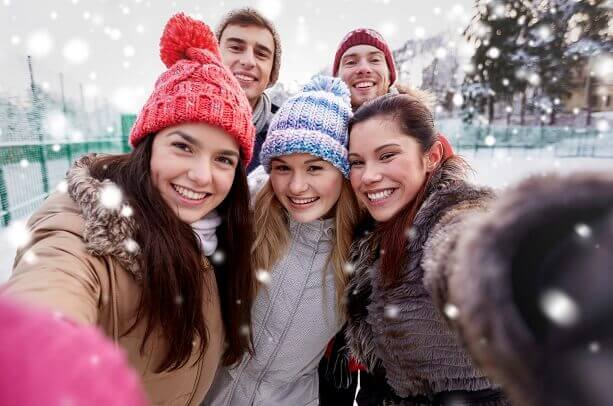 If you have a child off at school, you're likely anticipating their visit during this holiday season, and many of those kids are going to make the trip home by automobile. Looking forward to their visit is only natural, but so is being parental and cautious. Before they get behind the wheel of that car, make sure it's going to be a safe trip home with these tips.
Teach them car safety before they leave
Before your child packs their bags and leaves for school in the fall, make sure they know car safety basics, like how to check the tire pressure, fill the washer fluid in the car, and do a light check—making sure all brake lights, headlights and blinkers are working. If you live where it typically rains or snows in the fall, checking windshield wipers is also imperative. It's easy to forget your wipers need replacing until that first long, rainy drive with other cars splashing muddy water up on to the windshield!
Also encourage them to get an oil change in addition to doing these other safety checks a couple weeks before making the trip.
A car safety kit might be smart going away gift for this teenager, one that includes flares and jumper cables. But also add to it to other items they might need if stranded, including a supply of blankets, water and spare food.
If they're hitching a ride with a friend
What if your child doesn't take a car to college but hitches a ride home with a friend? Continue to be parental! Just because it's not your kid behind the wheel doesn't mean you can't still stress safety! If your child plans to get a ride with a friend, make sure that they know (and do) the same safety checks as your child. Also, checking to ensure that the friend is a safe and reliable driver is advised. If you have any doubts at all about the reliability of this friend, you have the right to voice your concerns and send your child a bus ticket for that trip home!
Safety while en route
Safety checks before hitting the road are important, but so is safety on the road. Whether your child is driving or getting a ride, make sure they know the route, plan to drive in daylight only, and have a plan for stopping every couple of hours to rest and stretch their legs. Insist that they have a schedule, with a set departure time, time for breaks and an arrival time all penciled in. If they are running late, they need to let you know right away. Also, stress the importance of not driving while tired! If they have a mountain pass to cross or other hazardous conditions, then chains or other precautions (and knowledge about how to use them) are a must.
No matter how they're traveling, also make sure they leave with fully charged cell phone batteries, or a way to easily charge en route (reminding them at the same time that texting or talking on the phone while driving is not okay). Being aware of areas without cell service and telling someone before entering them might be a good idea as well.
Since many teenagers drive home or get a ride with a friend for the holidays, car safety is an important thing to go over this time of year. It's best to start these in the summer, before your child heads off to school, but these safety tips are helpful at any time…and some of us have kids well out of their teens who will still benefit from this kind of commonsense advice!