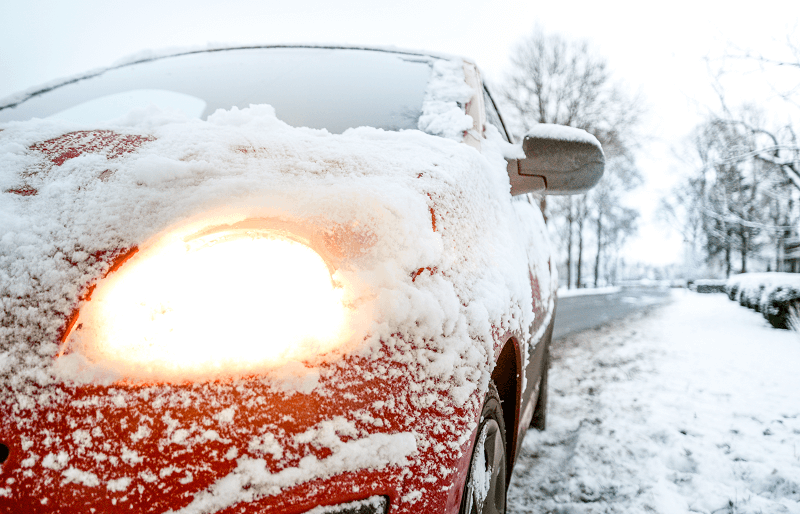 Although our part of the country is going through an extremely mild winter (as in little snowpack which will probably lead to water issues this summer), other parts of the country are getting the usual blasts of arctic air and bouts of heavy snowfall. Since winter weather has to be extreme to get people to stay home, plenty of us are out there driving no matter the road conditions. And that's dangerous.
According to reporting by USAToday.com, over 4,000 Americans have died in winter-related car crashes in the past five years. In fact, car accidents kill more people than weather disasters, and commonsense says accidents are more likely when visibility is bad and roads are slick.
We are all about safety and security at SafeStreetsUSA, and that includes watching out for you while you're on the road. So we compiled some tips for you for safer winter driving, based on advice offered by AAA…
Before you leave the house
The best way to be ready for winter driving is to be prepared ahead of time. Take time to see to these things long before you grab your keys and coat:
Stock your car with things you might need in an emergency, such as blankets, gloves, hats, food, water and medication. Also carry something brightly colored in case you get stuck. (Find more advice here.)
Avoid driving while tired. Your reaction time won't be as good should you need to avoid an accident.
Make sure your car is well maintained, and your tires are properly inflated. Or, as we like to say, make sure your car is trip worthy. This is sound advice all year long, but especially in the winter when being stranded will be a bigger challenge.
Keep your gas tank at least half full. This is in part to avoid your gas line freezing, but it's also sound advice for being prepared for adversity.
Keep an eye on the weather forecasts, especially before a long-distance drive or driving in an isolated area. If you can't postpone a trip, make sure someone knows your route, destination and estimated time of arrival.
While you're on the road
Once you've left the house or work, follow this advice to be a safer winter driver:
Do not use cruise control when driving on any slippery surface, whether it's snow, ice, excess water or sand that's making it slippery.
Accelerate slowly so your tires get a chance to grip the road when the surface is slick.
Decelerate slowly because it will take you longer to slow down, and hitting the brakes is a good way to go into a skid on winter roads. You know the stoplight is ahead of you. Anticipate it.
That said, be extra careful of other drivers who might hit their brakes hard. Keep your distance just in case.
Drive slowly. (Are you picking up on the "slowly" theme here?) Yes, accelerate and decelerate slowly, but also take your turns with care, and be more deliberate and cautious.
Take it slow and steady when going uphill, rather than trying to power up the hill. Otherwise, you might set your wheels spinning. Build some inertia on the flat before you get to the hill instead. You want to start your descent slowly too. This will help.
AAA says to brake by keeping the heel of your foot on the floor and using the ball of your foot to apply firm, steady pressure on the brake pedal.
Try not to come to a complete stop. It's harder to get going again when roads are slick. This is particularly true on hills, so if you're going uphill, keep on going even if you have to crawl along to avoid stopping.
If you get stuck
If you get stuck, you'll be glad you packed emergency supplies in your car! But also follow this advice:
Stay with your car. It's your shelter from the storm, and it's easier for rescuers to spot because it's bigger.
Walking away from your car in a storm can mean losing sight of it. Don't do it.
Don't over exert yourself trying to push or dig your car out of the snow. A little effort is okay, but save your strength.
If you need rescuing, tie a brightly colored cloth to your antenna during the day. At night, keep your dome light on if possible.
If you have to, run the engine and heater just long enough to remove the chill but try to conserve gasoline. Also make sure the exhaust pipe isn't clogged with snow or ice because that could cause carbon monoxide to get into the car when the engine is running.
However, the absolute best advice for driving in winter weather is to stay home. Despite all of your precautions, you're at the mercy of the weather and the other drivers, who might not be as cautious or prepared as you are. Wouldn't you rather stay in, wait out the storm, and avoid the worry altogether?