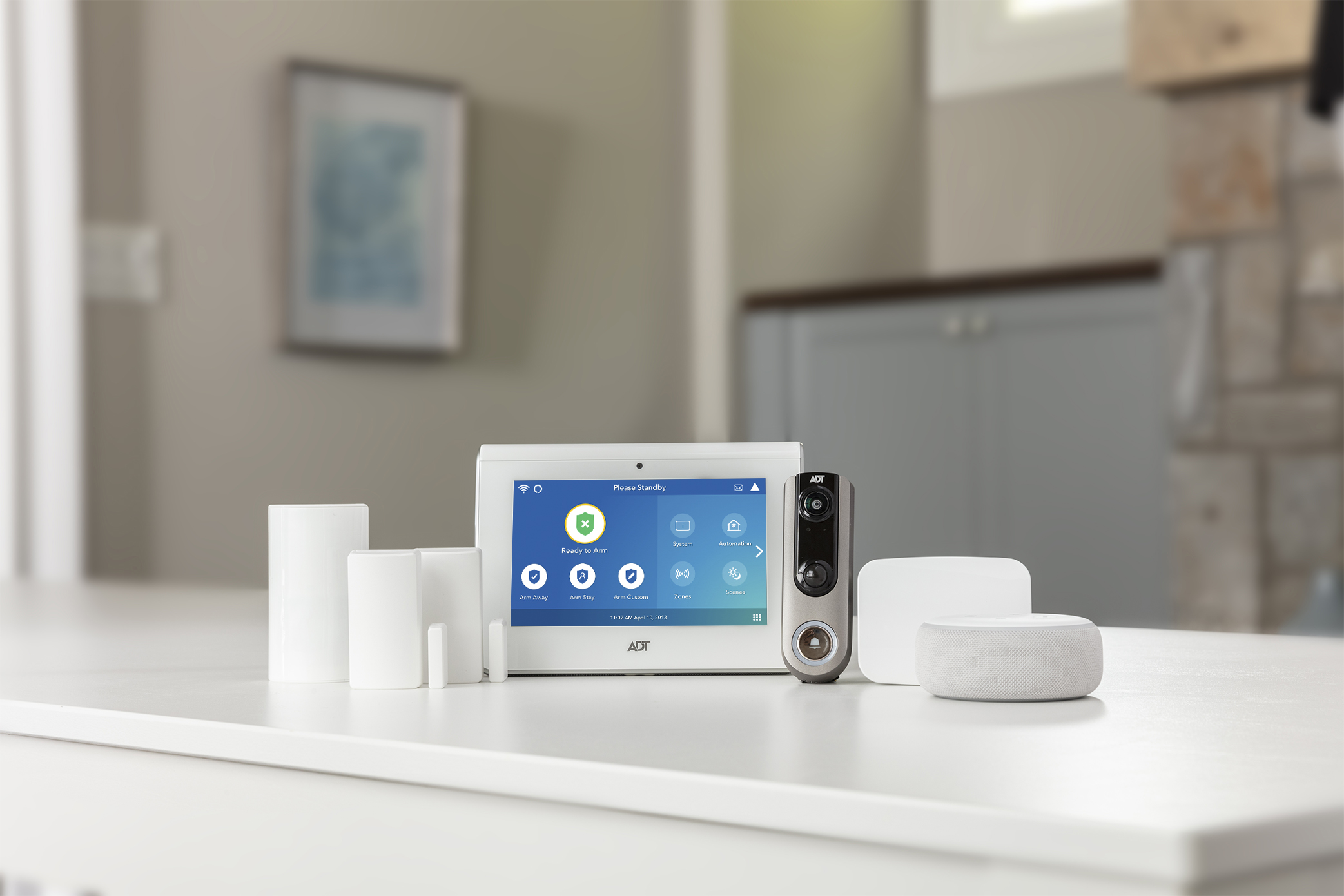 Most Americans will recognize the name ADT Home Security. ADT has been in business for more than 146 years and is America's first choice for home security.
With so many security systems on the market, all offering different deals and packages, it can be difficult to know what you need to help protect your home. Understanding the various components of each option and making an informed decision is key to creating a safe home for your family. 
SafeStreets is here to help make this process easier. An ADT-monitored system from SafeStreets comes backed by the understanding of our experts, professional installation, and the knowledge that you made the right choice to help protect your home.  
What Are ADT-Monitored Systems?
A leader in home security, ADT provides a premium service and is a best-in-class home security system. SafeStreets can assist you in customizing an ADT-monitored security system with easy-to-use technology and unique protection features to match your specific security requirements. Your ADT-monitored system may include all the features below.
ADT Command panel.

Your ADT-monitored home security system's control center allows you fingertip control over your security system's arming and disarming, as well as hundreds of smart home devices you can add on.
Door and window alarm.

Your security system is equipped with door or window alarms that will activate the high-decibel siren and notify you and ADT if someone who isn't supposed to enter your home tries to do so.
Security key fob.

Even if you have your hands full with your kids or groceries, you can easily disarm your home security system with the click of a button.
Motion sensors.

With certain SafeStreets services, motion sensors can trigger lights and security cameras throughout your home. However, the system is smart enough to allow your children or animals to pass without triggering a false alarm. 

   
Yard signs & window decals.

Send a clear statement that your family is protected by ADT.                                                                                                               

24/7 alarm monitoring.

Professional home security professionals are looking out for you and your family 24 hours a day, 7 days a week. You can relax knowing they've got you covered.
What Are the Different ADT-Monitored System Packages from SafeStreets
Each of our home security systems includes a personalized installation plan tailored to your family's needs. We have you covered whether you want to control your entire system via the mobile app or a more traditional home security system. We've simplified the different ADT-monitored packages for you and your family. 
Traditional plan.

Cover all the basic needs of your family with this plan.

Burglar alarms, cellphone connections, and the option of two-way communication are all included in the ADT-monitored traditional security package. You can update your system to incorporate Life Safety in addition to the standard features. These elements assist to safeguard your home from the unexpected, such as fire/smoke, extreme temperatures, flooding, and carbon monoxide poisoning.
Remote plan.

The SafeStreets Remote Plan will help you and your family feel secure wherever you may be.

With SafeStreets' Remote Plan, you can take control of your home security from anywhere. This package includes all of the essentials as well as remote activation. With our remote home monitoring app, you can arm and disable your security system from virtually anywhere in the world with the touch of a button. You'll get notifications on all of your linked devices, providing you with added peace of mind wherever you go.
Control plan.

With this package, you'll get our remote web and mobile security, as well as email and text notifications. This package is ideal for those who are frequently away from home and want to spend less time worrying about their home when they're not there. 
Benefits of a Professional Installation
Many security systems can be self-installed, but even a small mistake can jeopardize the entire system. That's why SafeStreets believes installation should be left to professionals. The only D.I.Y. required is picking up the phone and calling SafeStreets. We do the hard work to help protect your home, and you get the peace of mind that your system is installed properly. 
ADT's Overall Value
A brand with as long a history as ADT surely brings quality and safety to every home. 
Trustworthy. ADT home security systems have over 146 years of experience behind them. ADT, as the industry leader in home security, can assist you in customizing a home security system with easy-to-use equipment and unique protection features to fit your specific safety requirements.
Modernization. Google Assistant is compatible with ADT-monitored systems. Alexa can arm and disable your system and operate smart lights, locks, and thermostats. This is a blessing for those of us who have ever wished we could switch off the basement lights without getting out of bed. Despite the fact that ADT is the country's oldest home security brand, its monitored products from SafeStreets can compete with the finest in terms of smart home connections. This is great news because smart home technology is only growing in popularity.
ADT-Monitored Systems is the first name in home defense systems. You can't put a price on peace of mind and the safety of your family. Ready to get started with SafeStreet's ADT-Monitored Systems? Request a quote today, and our professionals will help you find the right plan for you and your family.