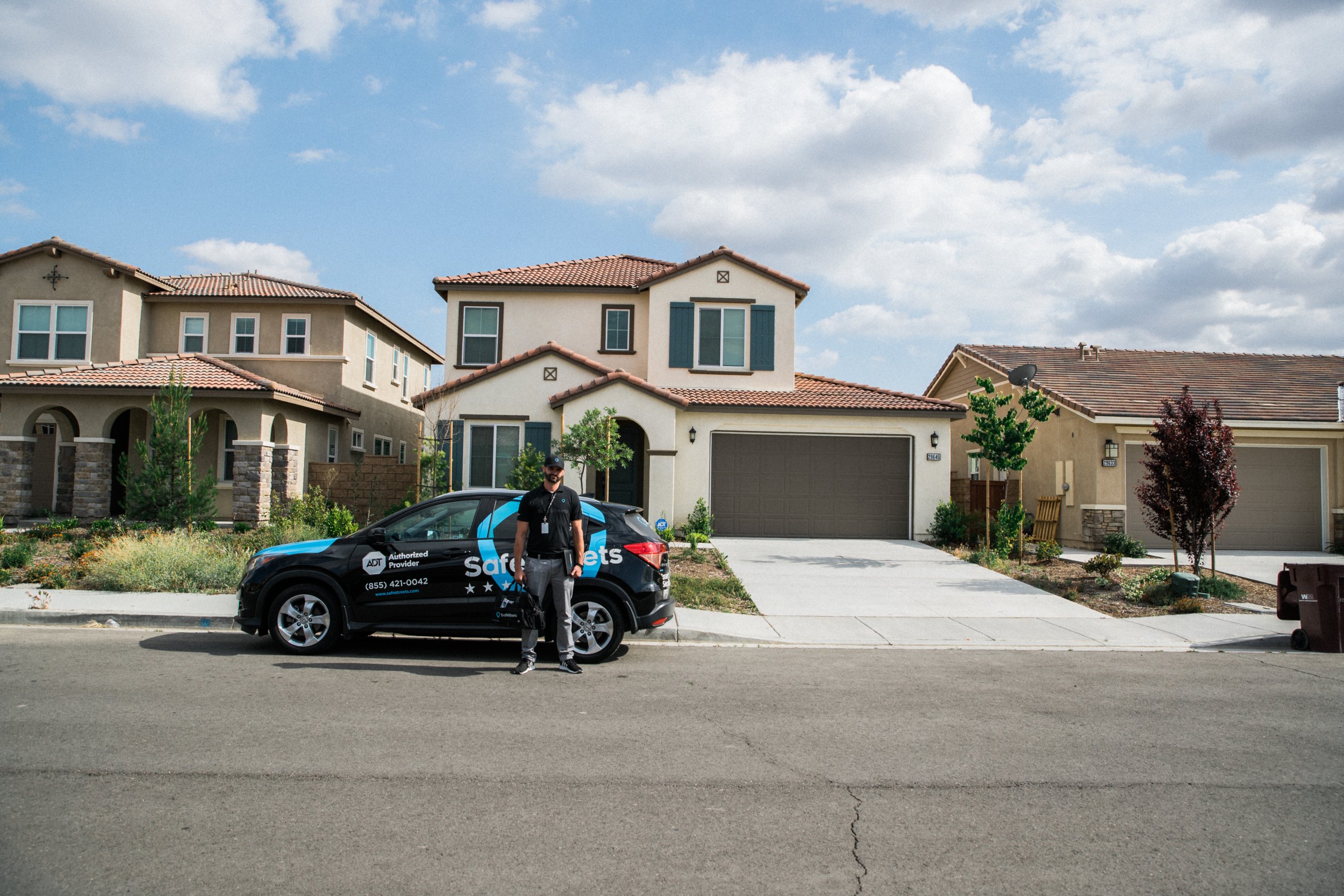 When it comes to choosing a home security system, you want something you can count on. Unfortunately, with so many different security providers available, it can be difficult to find the right solution to help protect your family and your property. Two such solutions are Amazon's Ring products, and ADT-monitored security and home automation systems from SafeStreets. Both options are favorably reviewed, and both have proven themselves as respected and capable of providing reliable home security. 
But which one is the best for you?
Here, we take a comparative look at Ring vs. ADT Authorized Provider-SafeStreets: their pros, cons, and other relevant details to help you make the right choice. 
Ring vs. ADT
Authorized Provider-SafeStreets: The Basics
First and foremost, let's consider the security providers themselves. 
Ring
A relative newcomer to the home-security scene, and most well known for its popular doorbell camera system, Ring is a home security company that was acquired by Amazon back in 2018. In addition to front-door cameras, Ring offers a range of Wi-Fi enabled, internet-connected surveillance systems, including floodlight cameras, adhesive cameras that can be mounted to most indoor or outdoor surfaces, and solar panels for powering non-grid surveillance equipment.
As an Amazon product, Ring is designed to integrate with Alexa and the rest of the Amazon smart home ecosystem. Although a popular and affordable do-it-yourself option, Ring does not leave users entirely on their own; Ring also offers professional monitoring services for an additional monthly charge. 
ADT Authorized Provider-SafeStreets
If Ring is the new kid on the block, then ADT is the wise veteran backed by experience and a proven track record. Founded in 1874, ADT is the #1 smart home security provider in the U.S. Today, ADT Authorized Provider – SafeStreets professionally installs ADT-monitored systems. Although potentially slightly more expensive than Amazon's Ring, ADT-monitored systems make up for the price difference with a more comprehensive security offering, a clearer cost structure, and the peace of mind that comes from working with a proven security provider. 
Ring vs. ADT
Authorized Provider-SafeStreets: Similarities
OK, now that we have a clearer picture of the two companies and their basic services, let's take a moment to acknowledge some of their similarities. 
Quality Equipment
Whether you choose an ADT-monitored system installed by SafeStreets or Ring, you shouldn't have to worry too much about the quality of the equipment. Both providers offer durable surveillance and security technologies. For example, the ADT doorbell camera vs. Ring doorbell cameras are both solid options.

Wireless Connectivity
Neither Ring nor SafeStreets require hardwiring into your property's electrical grid; these are generally wireless systems, making installation and integration a relatively simple and painless process. That said, SafeStreets does have an ADT-monitored wired system option for those who would rather not rely on their Wi-Fi.

Advanced Options
Both Ring and SafeStreets offer a range of different security packages, from the most basic (such as doorbell cameras, window sensors, motion detectors, etc.), to more advanced options.

Mobile Accessibility
When it comes to monitoring and controlling ADT-monitored systems installed by SafeStreets and Ring systems, convenience is key. Both systems are designed to be operated through their own mobile apps, so you always have direct access to the technologies that protect your property.

Integrations
There's a good chance that your security system is not the only smart system in your home. This is why both options are designed to integrate easily with other smart home features and third-party solutions. These integrations may be added to the security systems at any time.
Ring vs. ADT
Authorized Provider-SafeStreets: Differences
Although there are a number of similarities between Ring and SafeStreets, there are also quite a few differences. Here are several that you should be aware of:
Wired vs. Wireless 
As previously mentioned, Ring is entirely wireless. For many customers, this isn't a major issue — wireless systems are generally easier and less expensive to install, and will usually remain unaffected in the event of a power outage. Of course, wired security systems have their own advantages, including reduced hacking risk and increased effectiveness for larger properties. SafeStreets offers a wired security option; Ring does not.
Installation Options
One of the key selling points of Ring is that it's a DIY security option — there's no need to schedule an appointment to have the system installed in your home. But this also means that there's a better-than-average chance of improper installation (unless you chose to pay extra to hire a professional to install your system for you), possibly resulting in damaged equipment or reduced security effectiveness. SafeStreets, on the other hand, is always professionally installed, ensuring that all relevant equipment is optimally positioned and operating correctly.
Monitoring
Home surveillance and security equipment is most effective when you've got someone keeping an eye on it. SafeStreets ADT-monitored systems include professional monitoring as part of the standard deal, meaning that if you're using SafeStreets, then you've got someone on the other end 24/7 making sure that everything is OK. Ring does not include professional monitoring as part of the standard package, instead offering different options at additional price levels.
Costs
Ring and SafeStreets take different approaches in terms of cost. Assembling a Ring security system means purchasing all of the equipment and paying for it upfront, while SafeStreets includes the equipment costs as part of your monthly payment. Likewise, SafeStreets requires a three-year contract and an installation fee between $99 and $199*, with packages starting at $27.99 per month, with more comprehensive options running as much as $62.99 per month. Ring requires no monthly contract but charges $199.99 for the initial security package, and you will end up paying more for each additional component or piece of equipment that you purchase. Ring monitoring services also cost an additional monthly fee starting at $20 per month. 
*$99.00 Customer Installation Charge. 36-Month Monitoring Agreement required at$27.99 per month ($1,007.64). 24-Month Monitoring Agreement required at $27.99per month ($671.76) for California. Form of payment must be by credit card or electronic charge to your checking or savings account. Offer applies to homeowners only. Local permit fees may be required. Satisfactory credit history required. Certain restrictions may apply. Offer valid for new ADT Authorized Provider customers only and not on purchases from ADT LLC. Other rate plans available. Cannot be combined with any other offer. The $27.99 Offer does not include Quality Service Plan (QSP). Quality Service Plan (QSP) is ADT's Extended Limited Warranty.
Choosing the Right System for You
Everyone has different security needs, preferences, and expectations, which makes it difficult to make a definitive statement about which security system is "best" across the board. However, in terms of reliability, effectiveness, and value, most homeowners consider ADT-monitored systems from SafeStreets the right choice.

Not only is ADT an established brand, with more than 146 years of reputation and experience, but they also provide a more comprehensive security solution straight out of the box. Simplified costs are another advantage, with monthly payments covering installation, equipment costs, and 24/7 monitoring, so that you know exactly what you'll be paying, and what you'll be getting. And if for some reason you're not fully satisfied with your equipment from SafeStreets, ADT also offers a six-month money-back guarantee*. In other words, Ring is a good home-security solution; SafeStreets (backed by top-quality products and monitoring services from ADT) is just better. 
*Money-back service guarantee only applies after ADT has made attempts to resolve a system-related issue and has not been able to resolve that issue within the first 6months of your contract. Equipment must be fully removed before a refund will be processed. Conditions preventing normal system operation cannot be caused by the customer.
Interested in learning more? Call now for a free quote, and see why ADT-Authorized Provider SafeStreets continues to be the leader in home security.