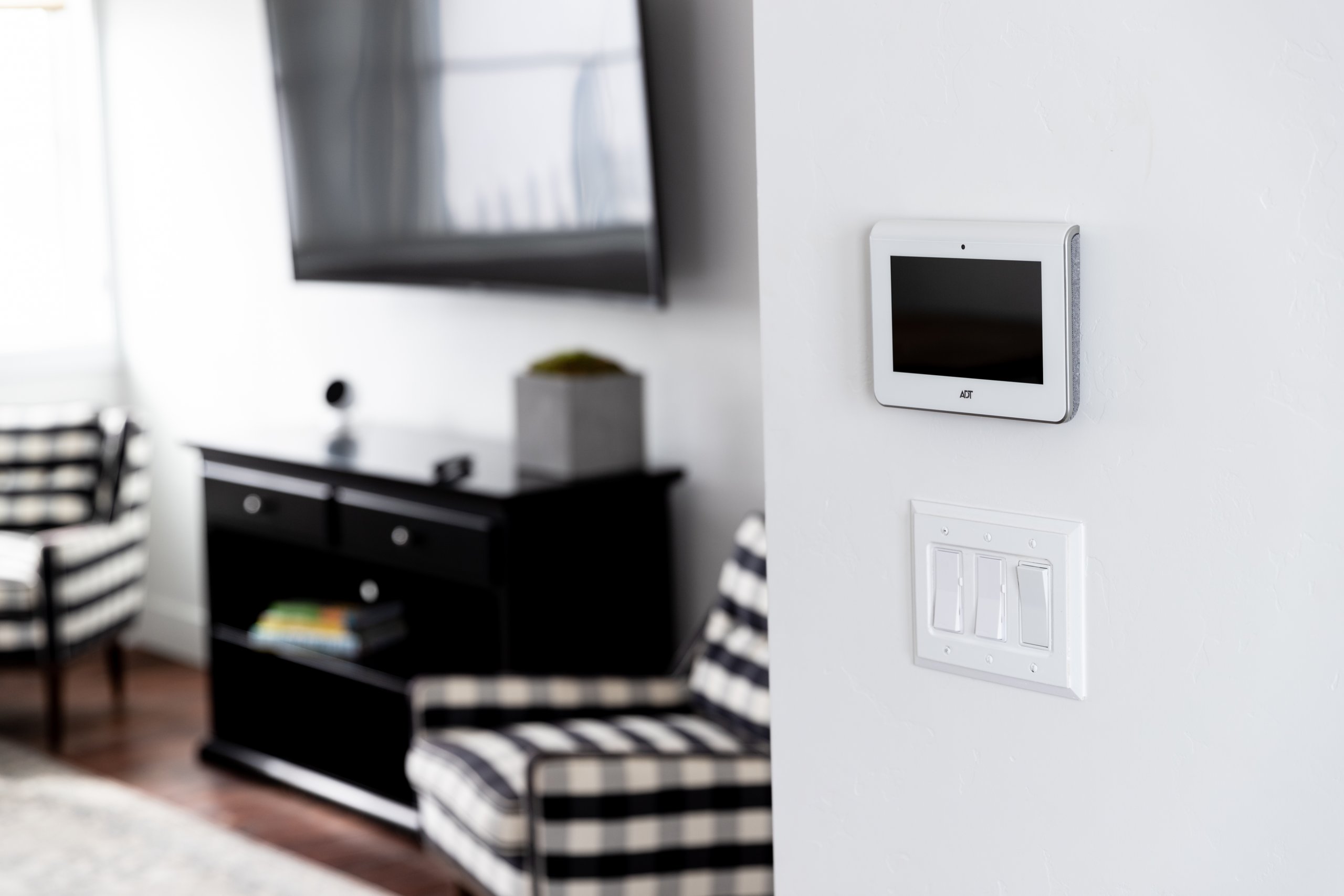 Anywhere you look, you'll find smart devices. The Internet of Things (IoT) has increased over the past decade, expanding just how many devices can be connected to the internet. One of the biggest developments in smart technology is the smart home. The smart home allows devices in your home to all connect to a singular WiFi network that gives you total control over your home. 
With the increase in smart home technology, there's also been an increase in using smart home tech for your home's security. Nearly every security company now offers a variety of smart home technology to protect and connect your home. In this blog, we'll discuss what a smart home security system is, how to use it, and how to protect against the risks that come with the high-tech. 
What Is
Smart Home Security
? 
What is smart home security? To answer this question, it helps to start out with what smart home automation is. Smart home automation is when everything from the lights to the door locks to the doorbell is all connected to one singular device that you can monitor and control. Smart home security is then using this smart home automation (with maybe a few extras) to protect your home as well as make it easier to use. 
For example, smart home automation can allow you to turn on and off lights with your smartphone. Smart home security would be using this same tech to turn on lights with a motion sensor as well and scare away potential home invaders. 
Smart home security systems can include all the usual tech in smart home automation, but usually, smart security systems also include cameras and sensors that can be connected to your device. These cameras help you record your property and monitor any suspicious activity. 
How to Effectively Use
Smart Home Security
Now that you know what smart home security is, how do you use it effectively? These are some of the most important parts of smart security systems and how to make them work to your advantage: 
Window and Glass Break Sensors
Window sensors may be small, but they're extremely powerful when it comes to protecting your home. Window sensors work by attaching a magnetic connection between two points. When the window is opened, the connection is broken and the alarm is triggered. Window sensors can also be used with smart home technology to bring your security system to the next level. You can use window sensors to alert you if a window was left open and get a notification on your device. That way you can use your smart home to check the status of each window in your home. 
Another good sensor to have is a glass break sensor. These sensors will trigger an alarm and alert your device if the glass in your window breaks. There are two types of glass break sensors to choose from. An acoustic sensor essentially "listens" for the frequency of shattering glass, and one sensor can cover multiple windows in the same room. A shock glass break sensor "feels" the vibrations of glass breaking and can monitor only the window it's attached to. Either one of these sensors can be hooked up to a smart home center that will alert you on your device if a window's broken. That way, even if you're not home, you can always know what's going on with your windows. 
Smart Security Cameras
Security cameras are a staple of any thorough home security system. Cameras help you monitor your property. Smart security cameras are the perfect addition to your smart home system because you can use your smart home device to monitor everywhere your cameras are—from anywhere. Whether you're at work or on vacation, you can use your smartphone to see what your cameras see. Your camera system can even use motion sensors to detect suspicious movement after you arm your system. 
Smart Locks
Smart locks are both convenient and a key security feature. Most smart locks use a keycode entry instead of a physical key, so you never have to worry about losing your key and giving someone access to your home. Smart locks can also connect to your smart home hub, which then gives you access to control if the door is locked or unlocked from your smartphone. 
With this smart home automation, you'll be able to control and monitor when a door is unlocked. And you can lock it from anywhere—no more worrying about if you remembered to lock the door or not. Plus, if a child forgets to lock the door when they leave, you can lock it from your phone and keep your home safe. 
Smart Doorbell
Smart doorbells are another type of smart home automation for your doors. Smart doorbells include a camera that allows you to see who's at the door, and there's usually a speaker that you can talk to people at your door. The best part of the speaker and camera is that you can view both from your smartphone. You can see who's ringing your doorbell when you're at work or away from home. And you can talk to whoever's at your door from anywhere. 
Smart doorbells are a great addition to your smart home security system because they're an added layer of protection. You never have to open the door to a stranger, and you can even let a stranger at your door know that you're watching them. Burglars are less likely to attempt to break into your home when they know you're watching and listening. 
Smart Light Controls
Controlling your lights is one of the most popular smart home automation uses. But you can also use smart light control to increase your home's security. You can turn lights on at certain times with your device to make it seem like you're home when you're not. Gone are the days of timers turning your lights on and off while you're away from home. You can now run it all from your smart home hub, and doing so can help protect your home. 
The Risks of a
Smart Home Security System
& How to Reduce Them
When some people hear about smart homes, they're resistant because they're worried about the risks of that much technology being connected to their WiFi. While there are some risks associated with smart home technology, the risks usually outweigh the benefits.
Plus, with a few security tips, you can significantly reduce the risks of a smart home, so you're able to use this technology to protect your home. 
Use a passcode on your mobile device
Your mobile device is your smart home hub—all of your security devices can be accessed from that one place. So it's important to make sure that nobody can access your smartphone without your permission. The easiest way to secure your device is to make sure that you have a good passcode on it. 
Use a strong passcode on your computers
Your computers are a way somebody could also access your network and your smart home devices. Mitigate the risk of a security breach by making sure that all of your computers also use a strong passcode. All of your computers should have different passcodes to increase security. 
Always run patches and updates
Software companies create patches to repair potential holes in their security and networks. If you see a patch available, you should always run it as quickly as possible. The same goes for updates. Updates also sometimes take care of security risks as well as improve the operating system as a whole. You should always install updates as quickly as possible to make sure your devices stay secure. 
Use firewalls
Most routers have a built-in firewall that you can use if you enable it manually. Once you enable it, the firewall can help keep your entire internet network safer. You can also enable firewalls on your computers to add an extra layer of protection. 
Find a router with good security features
A good router is key to protecting your home network and smart home technology. Many routers come with good security features that can help keep your internet secure and protect your network. If your router right now doesn't come with these security features, consider upgrading to a better router, so you can take advantage of the benefits of smart home technology and security. 
Getting Started with a
Smart Home Security System
If you're ready to get started with smart home security, we're here to help you at SafeStreets. We have every kind of smart home security—from just the basics to the complete smart home with professional installation and 24/7 monitoring service by ADT. Here's a brief overview of the different smart home security plans we have for you: 
Remote Plan.

This package lets you control your smart home technology remotely—from your smartphone. You can arm and disarm your system as well as control locks, lights, and sensors. 

Control Plan.

This plan will give you the control that a smart home allows you to have. This plan is remote while also allowing you to access live footage from your security cameras. Plus, you'll get text notifications in case you aren't watching the app when something happens. 

Video and Automation Plan.

This plan is one designed to give you access to all real-time video footage, so you're able to automate and monitor your system remotely. This plan is complete coverage—with the smartest smart home tech including smart thermostats, automated door locks, light module control and more. 
Ready to get started with smart home security? Request a quote today, and we'll help you find the right plan for you.