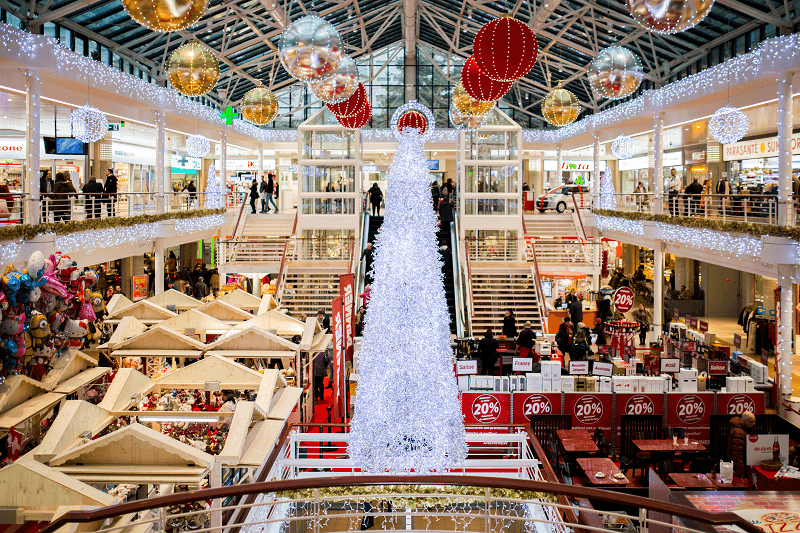 With Turkey Day over, many of us would like to fall into a food coma while someone else finishes the dishes in the kitchen. Some of us want to watch football with our family. Others, however, start gearing up for the next few days of shopping: Black Friday through Cyber Monday.
Since 30 percent of all retail sales happen between Black Friday and Christmas, it's no surprise that millions of Americans will be retiring to bed early on Thanksgiving so they can get going first thing the next morning.
But all that shopping comes with some risk, and you know we are all about mitigating risk! So here's your guide to staying safe every day of this holiday shopping weekend…
Black Friday
Do your research. If you check out the layout of the store beforehand, it'll be easier to head straight for the deals you want and avoid the wandering crowds.
Don't get up too early, since 8:00 a.m. may be the perfect time for your Black Friday shopping. All of the super early risers will have left already, and those wanting to sleep in will still be in bed. As long as you aren't looking for a specific big-ticket item, arriving at a reasonable hour may benefit you by keeping you out of the chaos.
Check the web. Sure, you can wait until Monday (we'll get to that later), but some stores have their Black Friday deals online too, meaning you don't have to go to the brick-and-mortar location.
Small Business Saturday
Do make sure that all doors and windows are locked before leaving home (or check remotely from your phone once you're out and about). On a more relaxed day like this Saturday, you may be out even longer than usual strolling around town. Making sure to secure everything can help with your peace of mind.
Don't leave packages outside after you return home, and don't advertise expensive purchases. Break down large boxes as soon as possible to keep recent pricey purchases like televisions or appliances a secret from curious eyes…and we don't mean just those of your family, but the curious eyes of anyone else.
Check your car. Lock all doors and roll up all windows in the parking lot, even if you only leave for a bit. Make sure to double-check they're locked, just in case a sale notification pops up on your phone and distracts you.
Cyber Monday
Do use a credit card. By using a credit card as opposed to a debit card or a third-party payment service, you release less information about yourself. The less information you give out online, the better. Credit cards are also easier to deal with if fraud happens, and may even provide a "zero liability" policy in case you are the victim of fraudulent charges.
Don't reuse your passwords. If someone gets hold of your password to one site, make sure they aren't able to use it on every other site as well by changing up your passwords. This includes using different passwords for sites such as your bank or email than you would for shopping sites.
Check for an "s." To be sure that the site that you're shopping on is secure, check for https:// rather than just http://. A lock or a similar symbol may also appear to confirm the security of the site.
If you happen to be one of the 100 million people scouring for deals before dawn, you could probably use a helping hand. While this post can't help you carry all your bags to your car, it can give you some new tips to help keep you and your belongings safe this crazy weekend.