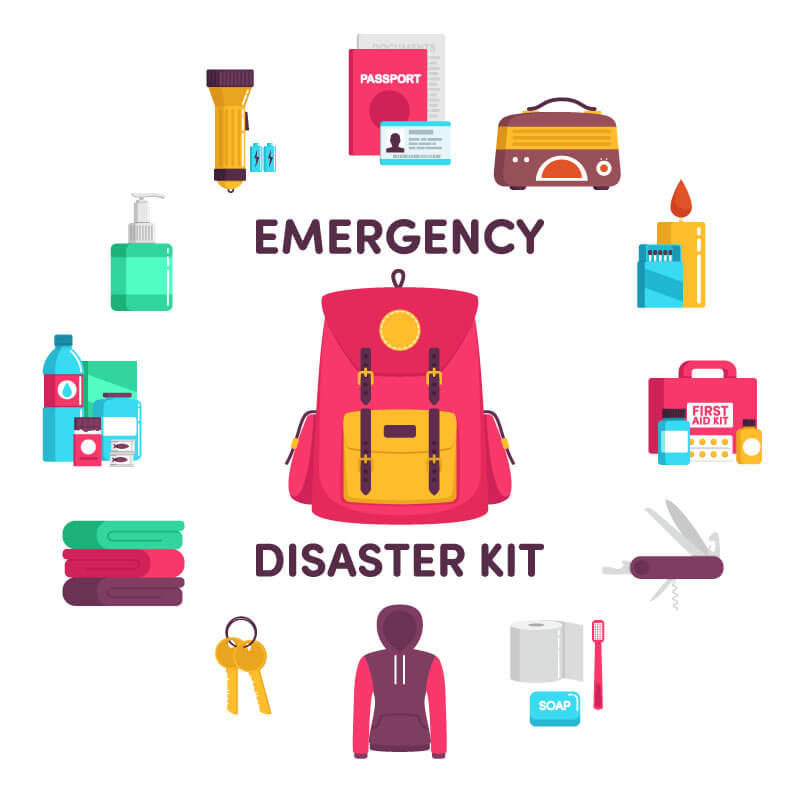 Why are we so ill-prepared for disasters in the U.S.? This isn't just anecdotal. A new survey by Farmers Insurance shows how many of us are vulnerable to a natural disaster, due to lack of planning alone.
For National Preparedness Month last month, Farmers Insurance conducted a survey and published the results as both a list of findings and a planning resource. Among the shocking statistics, Farmers Insurance learned:
70% of people living in the U.S. have experienced some kind of natural disaster.
One-third of those say they've been in a hurricane.
60% of households do not have an emergency plan in place in case of a natural disaster.
55% of people living in the U.S. don't have an emergency kit.
35% of those who do have an emergency kit and are pet owners don't have any pet supplies in their emergency kit.
The results of that survey gave me a jolt because I fall into the "don't have" category every time. We haven't discussed emergency planning around here since we became empty nesters, which makes no sense, but is sadly true. So I am more than ready to tackle the emergency plan and kit as outlined in the document.
Your emergency plan
Are you also ready to get prepared? If so, the following suggestions offered by Farmers Insurance should help you develop your emergency plan for starters:
Know how you'll receive emergency alerts. If the power goes out, as well as the Internet, how will you stay informed? A hand-powered or battery operated radio might be in order.
Know your evacuation route and shelter plan. If you have to evacuate, where will you go? Think about which roads might or might not be open in the event of a disaster. For us, for example, we really need to figure that out because we are three miles down a dead-end road. We could easily be cut off and unable to evacuate without a plan. If you have pets, research pet-friendly shelters ahead of time.
Know how you'll get in touch with each other. Make sure everyone in the family has phone numbers memorized or written down in case a cell phone is lost and you can't access your contacts. Then consider choosing a friend or family member who lives outside of the area as the contact point in case you can't get in touch with each other.
Know where you'll meet. If one person is at work and another at school and a third at home, and when disaster hits, meeting at home won't be an option, where will you meet instead?
Your emergency kit
If you need to evacuate, you will need a grab-and-go emergency kit that you can take with you at a moment's notice. Farmers Insurance recommends your kit include:
Water
Drinking water tablets
First aid kit
Canned food and can opener
Blankets, preferably the space saving emergency kind
Warm clothes
Sturdy shoes
Medication
Dust mask
Extra eyeglasses
Bleach
Baby items such as diapers and baby food
Pet items such as food, water bowl and leash
Hygiene products such as tissues and hand wipes
A plastic bucket in case toilets aren't available
Battery-powered radio (and extra batteries)
Flashlights and batteries
Fire extinguisher
Multifunctional axe/knife
Whistle
Trash bags
Small tent
Cooking stove, fuel and pot
Heavy gloves
Shovel
Rope
Wrench
Cash
Copies of important documents
Phone numbers
You can see the full list here. Note that most of these items are things you should have on hand, even if you don't need to evacuate. So have this stuff handy regardless, okay?
Are you one of the 60%?
The year 2017 was the costliest ever, with natural disasters causing $306 billion worth of damage. As we near the end of 2018, it seems we had an easier year, but one thing is for certain: Natural disasters will always be a threat. We can't do anything about that or the destruction they will do, but we can take steps to keep ourselves and our families safe by preparing ahead of time. And according to Farmers Insurance, 60% of us need to get our acts together and get ready!