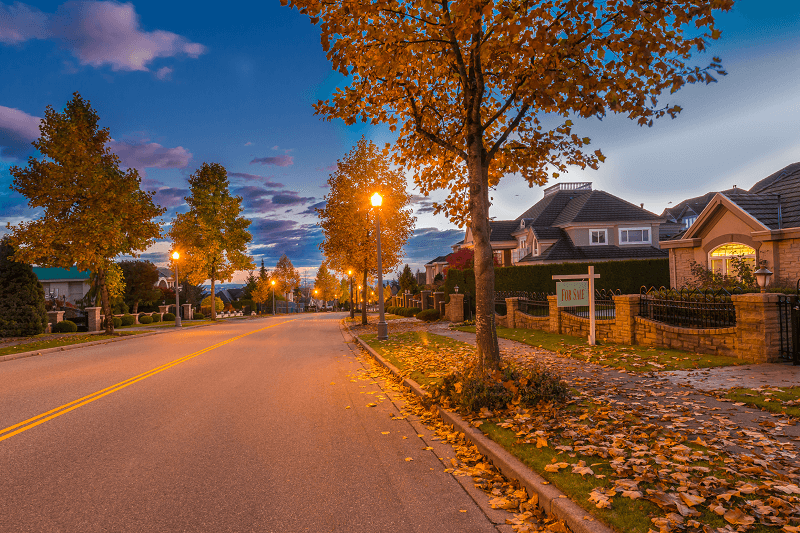 October is here, Halloween is fast approaching, and daylight savings will end November 4th. Yep, it's time to look at lighting! Use the tips below to make sure your lighting is adding to your home's security, both inside and outside your home.
Inside your home
With a home automation system, you can put your lights on timers so they turn on when it starts to get dark, even if your house is empty. There are two safety reasons for having your lights turn on automatically.
The lights turning on all of a sudden makes it look like someone's home, to help deter burglars.
When the lights are already on, you or your kids can see when first coming in the front door, reducing the risk of trips or falls in the dark.
Also take a walk around as dusk falls to evaluate your lighting needs. Are there dark corners or stairs that would be safer with better lighting? Are there nightlights for anyone who gets up to use the bathroom or get a drink of water during the night? Fix any problems spots you find, to decrease the chance of accidents.
Outside your home
Good lighting outside will also help deter burglars and reduce accidents, but it's a little trickier because you'll have to experience the dark spots to know where you need to make adjustments. Do your assessment when it's dark and check for the following:
Are sidewalks and pathways clearly lit, for your family, but also for visitors?
Is the path to your shop or detached garage clearly lit?
Are there dark areas by doorways or windows where someone could hide while breaking in?
As you're improving your outdoor lighting, keep in mind these three tips so your yard doesn't end up looking like a brightly lit runway:
Use motion sensors to provide light only when and where needed. Perhaps a soft light is enough most of the time, but a motion sensor can turn on a brighter light as someone approaches the house.
Be wary of really bright lights that shine like a spotlight because they will also create dark shadows—and you want to avoid that.
Be a good neighbor and make sure your lights are not annoying or pointing into anyone else's yard.
And now? Now let the darkness come. You're ready…