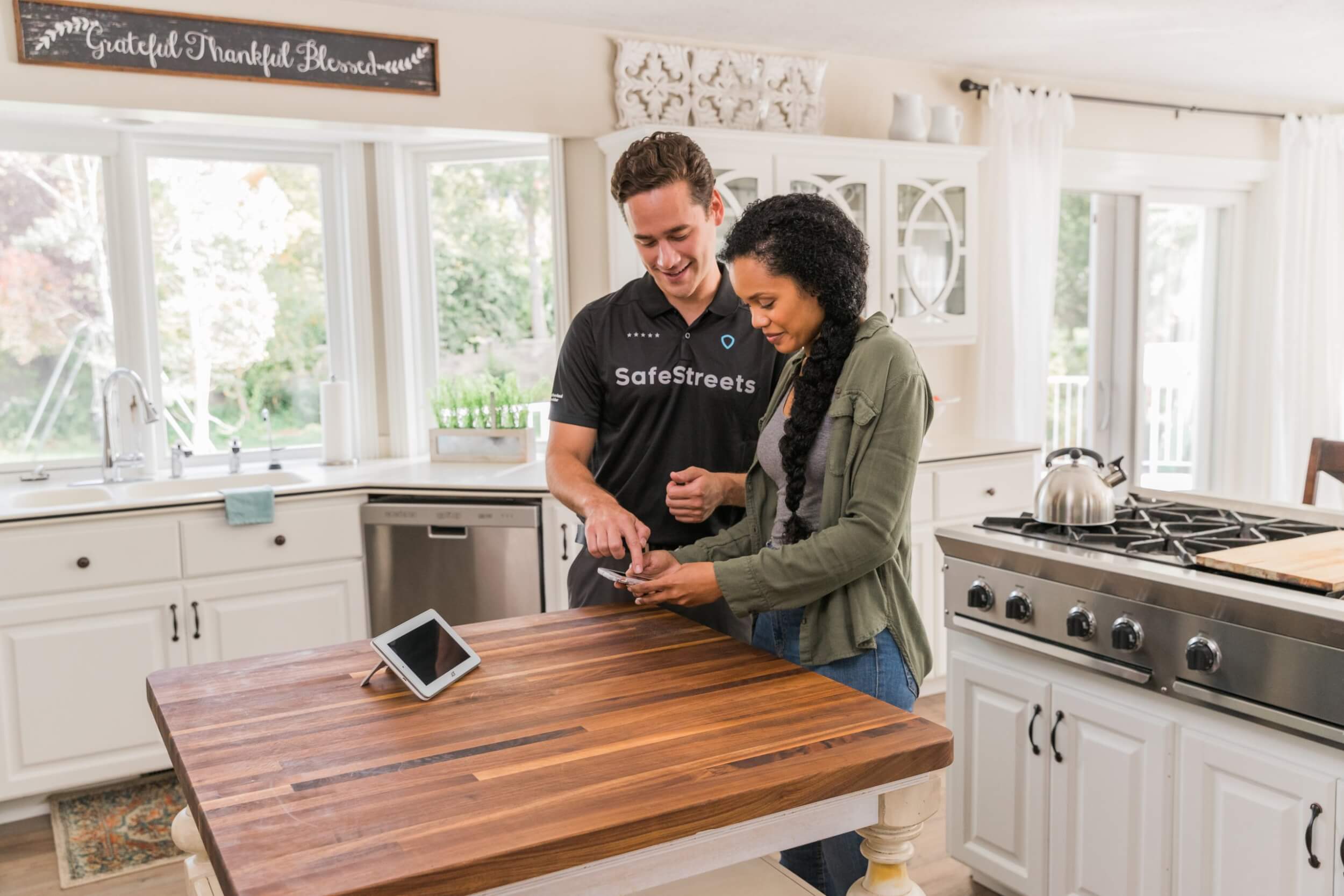 When we say we roll out the red carpet for our customers, we mean it. And that starts with our five-star technicians. Whether you're installing a new ADT-monitored smart home security system or need maintenance on your current one, your experience will never be less than five stars with SafeStreets' Smart Security Pros on the job. Let's take a look at who our Smart Security Pros are and what makes them five star.
Who Are Smart Security Pros?
Unlike some industry competitors, all of our technicians/installers are employees of SafeStreets – not third-party contractors. We have over 300 Smart Security Pros trained in all the latest equipment and technology as well as our five-star pledge. By investing in our employees, we're also investing in making sure you have the best experience possible with a consistent look, feel, and expectation of service. We're the experts so you don't have to be!
What Makes Smart Security Pros Different From Other Technicians?
We pride ourselves on being different and setting the industry standard for what it means when it comes to good customer service. Our Smart Security Pros are dedicated to providing the best customer service available on every home visit and installation. Each of our pros has a pledge on the backside of their business cards that reads, "As a Smart Security Pro, I pledge to provide a 5-Star Experience that is unparalleled in the smart security industry." This business card is given to customers when they enter a home to set expectations right away. The business card also provides a way for customers to give a review (good or bad) once they leave. We want our customers to know we respect their homes and prioritize their comfort during a smart home security installation appointment.
Here are some fast facts about our Smart Security Pros that make them five star:
All

Smart Security

wear uniforms with visible ID badges to make them easily recognizable when they come to your front door.

All

Smart Security

Pros are background-checked and licensed.

They wear custom-made indoor shoes when in your home to prevent dirtying or scuffing floors.

A SafeStreets mat is laid over an existing welcome mat or before the front door to change shoes and go in and outside in a clean manner and prevent any mud, dirt, or other elements from tracking inside.

They keep any tools or equipment on work mats in the home as to not damage floors and catch any potential falling drywall dust.

They complete inside and outside walk-around assessments to make sure the system designed for homeowners over the phone will cover the customer's home and their wants and needs.

They leave the home cleaner than when they found it.

They are experts in teaching homeowners not only how to

use

their system but how to be

comfortable

with a new system. 
Our Smart Security Pros don't just stop at a good home security installation with top-of-the-line equipment that helps keep you safe. It's also their job to help customers FEEL safe. We want to make sure you know everything you need to know about your new system to feel comfortable and protected. Smart Security Pros will complete a full demonstration of your system once it's installed to give your entire family the confidence they need to run the system smoothly. Read more about our 5-Star, five-step process here.
Want to hear about our Smart Security Pros from our previous customers? Take a look at our over 41,000 and counting 5-Star reviews on Trustpilot. 
Hassle-Free Smart Home Security With SafeStreets
We recognize that our work of installing smart security systems happens within your home – a hub for your family's life. SafeStreets takes pride in our professional installers who make the most of your time with efficient installation and instruction. We strive for a smart home security installation that is not only five stars but an experience that gives you peace of mind that what you value most is protected. Get in touch with our Smart Security System Pros today to set up your free consultation. From smart security cameras to fire and life safety, SafeStreets will get you protected.