Home Security Systems in Lebanon, TN
Locals call Lebanon, TN, "Cedar City" because of the heavy concentration of magnificent cedar trees in the area. Located in Wilson County, this quaint community highlights the best of what the Nashville area offers. SafeStreets helps protect Lebanon families and simplify their lives with home security products, cameras, fire and life safety devices, and home automation systems. Read more to learn about how our home security experts can improve your family's safety and well-being.
Call For A Free Quote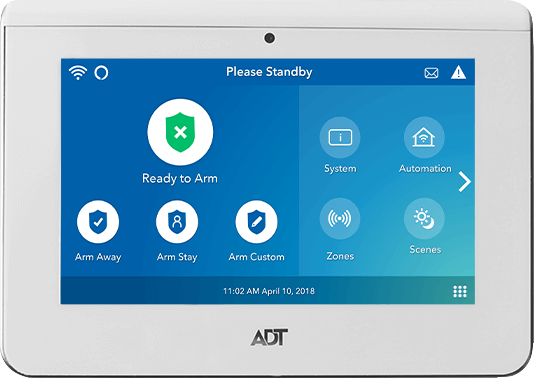 Help Keep Your Family Safe With Home Security Systems
Home security systems play crucial roles in protecting families from theft, break-ins, and other crimes. SafeStreets offers the country's best and most extensive line of home security systems, including:
Door and window sensors

Glass break sensors

Smart door locks
Let's examine each of these advanced technologies closer.
Door and window sensors
With SafeStreets' window and door sensors in place, you and a team of ADT monitoring professionals will receive instant notifications if there's ever a break-in at your home. First responders will be dispatched immediately to your location. Position door and window sensors throughout your home for ultimate protection.
Glass break sensors
If any of the glass on your windows or doors incurs even the slightest crack, you will be notified immediately. Each of these high-tech glass break sensors covers a range of 25 feet and operates continuously for your family's protection.
Door locks
You won't have to worry about forgetting your house key again when you have SafeStreets' smart door locks installed. If your door ever changes from a locked to unlocked position, you'll receive an instant notification. You can also unlock and lock your doors from anywhere that you are with your ADT Control app.
Security Cameras in Lebanon, TN
SafeStreets' indoor, outdoor, and doorbell cameras work constantly to protect every inch of your home and property. When connected to an ADT-monitoring center, our security cameras keep you safe from intruders, burglars, vandals, porch pirates, and other undesirables.
Video doorbells
Our video doorbell cameras provide clear and crisp 720p HD video images with de-warping technology. You'll be instantly notified if your doorbell camera detects any motion at your door. You can also chat with visitors via your mobile app using the doorbell camera's 2-way communication system.
Indoor security cameras
Indoor security cameras from SafeStreets allow you to see the interior of your entire home via your smartphone or another connected device. You can watch recorded or live video images anytime you want to, from wherever you are. It's so nice to be able to see inside of your home and know that everything is safe when you can't be there.
Outdoor security cameras
Used in conjunction with our doorbell and indoor cameras, our outdoor security cameras allow you to view your entire property anytime, from anywhere, via your mobile devices.
Help Protect Your Family With Fire & Life Safety Systems
SafeStreets' fire and life safety systems can be backed by 24/7/365 ADT monitoring to protect your family. Remember that it's not just burglars and vandals that put your family in danger; you also need protection from the elements like fire, floods, and carbon monoxide.
Flood sensors
When you place our flood sensors throughout your home, you will receive an instant notification anytime a leak occurs. Our flood sensors are wireless, battery-powered, and easy to use and install.
Carbon monoxide detectors
Carbon monoxide is extremely dangerous, and it's exceedingly difficult to detect in its initial stages of leaking. High-tech carbon monoxide detectors from SafeStreets placed throughout your home will help provide complete CO protection for your family at all times.
Smoke detectors
Our ultrasensitive smoke detectors instantly recognize smoke, heat, and fire if it occurs in your home. You'll never have to wonder if your smoke detectors are in proper working order as they are equipped with sound and light notification alerts.
Home Automation Systems from SafeStreets
Convert your house into a home of the future with SafeStreets' home automation systems. Our smart thermostats, smart plugs, and smart lights will save you energy and put you in control of your home from anywhere you are via your connected smart devices.
Smart Plugs
Take control of the lighting and small appliances in your home with our smart plugs. Connect them to our Z-wave modules and enjoy operating your lighting or appliances remotely.
Smart Lights
It's simple to set up a smart lighting system with SafeStreets' smart lights. They are energy efficient, unlike regular light bulbs, can be customized to meet your unique needs, and are able to be dimmed, even if your lighting devices don't have dimmer switches.
Smart Thermostats
SafeStreets' smart thermostats are remote controlled, allowing you to automate, schedule, adjust, and monitor your home's temperatures from anywhere you're at via your smartphone or a computer. You'll receive alerts that you customize to instantly let you know whenever your home's temperature changes.
SafeStreets Is Proud to Be an ADT Authorized Provider
SafeStreets' professional security experts are committed to bringing high-tech security to your home to help enhance the safety of your family, whether you are there or not. We dedicate our lives to installing customized security packages in Lebanon, Tennessee, and the rest of the United States. Let our team of home safety and security professionals help protect you, your family, and your home.
Get A Free Quote Today