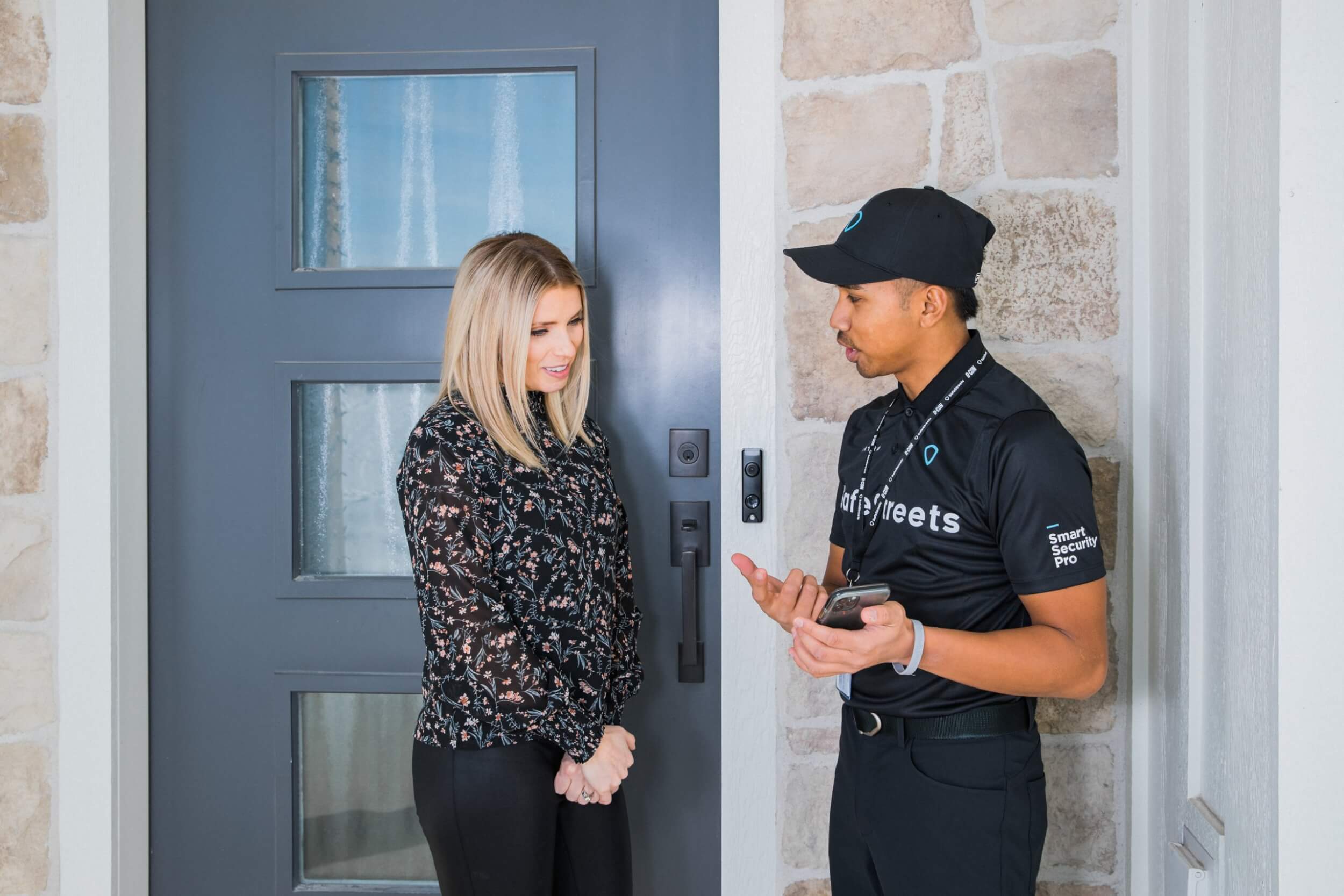 It may seem obvious that your front door and yard are some of the most important areas of your home to protect since they're the most exposed. What's not so obvious is that a shocking 36% of home break-ins still occur in those places. A front door camera system can help prevent front door break-ins, vandalism, package stealing, and more with the proper camera system choice.
If you're not quite sure the best route to help protect your front door, below we'll explain the two most common security options and when you might choose one over the other. 
Common Front Door Camera Choices
The two most common options for helping protect the front of your home include video doorbells and outdoor security cameras. Depending on the makeup of your front door and yard, you may want to choose just a video doorbell, just an outdoor security camera, or a combination of the two.
Video Doorbells
Video doorbells act as a doorbell, camera, video recorder, microphone, and speaker all in one. This wireless front door camera option allows you to monitor what's going on around your front door whether you're at home or away. Features include:
Clear 720p HD video images featuring de-warping technology

Wide-angle lens for a 180-degree view of your entryway and yard

Night vision capabilities for clear video even in the dark

Immediate recordings when the doorbell camera detects motion at your door

Instant notifications when a package is delivered to your home, someone knocks on your door, or other motion is detected

Chatting capabilities with visitors using the doorbell camera's two-way communication system

Remote control with the ADT control app
Because a video doorbell only has a 180-degree view and is limited by its location as a doorbell, this option is best suited for homes with a smaller front entryway and yard. 
Outdoor Security Cameras
If you thought video doorbells could do a lot, wait till you see what outdoor security cameras can do. Like video doorbells, outdoor security cameras also act as a speaker, microphone, and video recorder. However, outdoor security cameras provide a couple of additional bonuses that give them an even more holistic approach to protecting the front of your home. The first is that outdoor security cameras are able to distinguish between visual information. This means your security system can actually differentiate between important and unimportant events and will only send alerts to your phone when something serious takes place. Secondly, outdoor security cameras have more viewing ability and flexibility as to where they're located since they aren't tied to a doorbell. Lastly, these cameras feature a higher video quality at 1080p, making it easier to see what's happening outside your home. Other features include:
A complete security system with wider coverage and fields of view than a single video doorbell 

Highly customizable camera location options

Superior 1080p HD video quality 

Live footage and recorded images whenever a camera senses motion

Rugged design to wear any weather conditions

360 views of your front door and yard

Remote control with the ADT control app

Voice capabilities 

Night vision for recording in low-light situations

Smart notifications directly to your phone only when a serious detection occurs
While they can be more expensive than video doorbells, outdoor security cameras are the perfect solution for homes with a larger front entryway and yard, particularly those on a corner lot where the yard is exposed in the front and on the side.
SafeStreets Home Security Cameras & Surveillance
Whatever system you end up wanting, we have a front door camera solution for you. Help protect every inch of your home with SafeStreets home security cameras and surveillance. Our front door cameras secure your property from intruders, vandalism, package thieves, and burglars. Help protect your property, family, and belongings by being connected to an ADT monitoring center 24/7 as part of our home security system network. Customize your security camera layout and get a free quote today by contacting our security camera installation professionals.