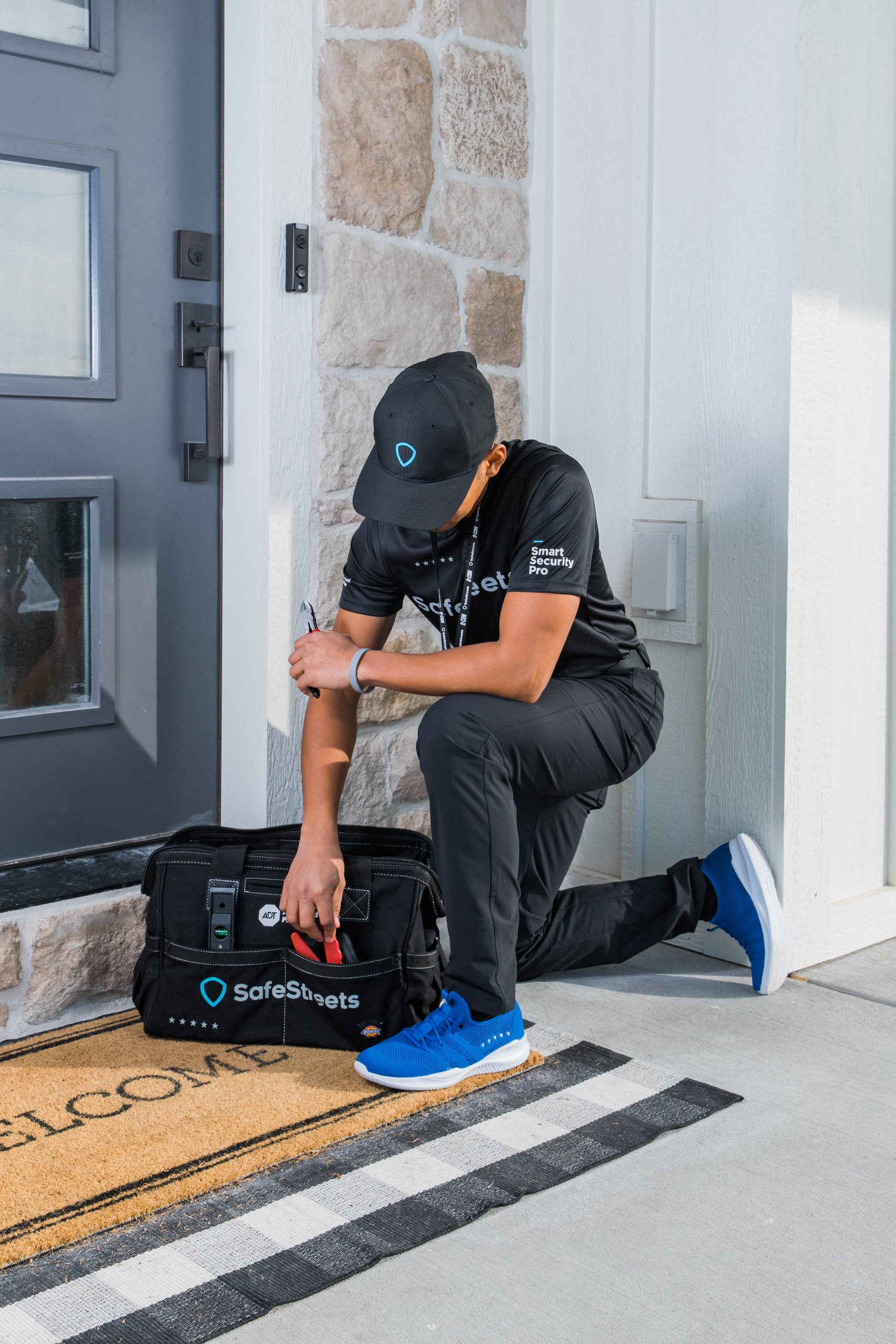 There are a lot of choices nowadays when it comes to helping protect your home, but none with more years of monitoring experience than ADT. In this blog, we'll compare our services coupled with ADT monitoring versus the newer DIY security provider, SimpliSafe, so you can be sure to make the most informed decision when it comes to helping protect what matters most in your life. 
SafeStreets vs. SimpliSafe Overview
Over the years, two schools of thought have come to be in the home security industry: the "do it yourself or DIY" home security and the professional home security. Here at SafeStreets, we believe nothing should be left to chance, especially when it comes to helping protect your loved ones and your personal possessions. That's why we only provide the best installation experience with ADT-monitored systems. 
ADT has been the leader in home security for over 145 years. With the latest security technology and 24/7 monitoring provided by ADT who has never missed an alarm, it's no surprise why SafeStreets is often considered and chosen for homeowners' security needs. 
While SimpliSafe has some good qualities for a company that got its start in 2006, here's a quick snapshot of why ADT Authorized Provider-SafeStreets ultimately wins in the end:
ADT Authorized Provider-SafeStreets

SimpliSafe

Free* starting equipment

*with $99 installation charge and new monitoring agreement. Early termination fee applies.

✔ 

✘

6-Month Money-Back Guarantee*

*restrictions apply

6 months

 

60 days

ADT Theft Protection Guarantee**

**restrictions apply

✔ 

Up to $500

✘

Company-owned monitoring centers

✔ 

9 ADT Monitoring Centers

✘

Contract length

✔ 

24-36 months 

✘

Years of experience

146+

15
Is SimpliSafe Better Than ADT Authorized Provider-SafeStreets?
The short answer? No. The better answer? Let's take a closer look at the following key components of each company to help you decide for yourself:
Installation

Equipment & Hardware

Contracts

Security Cameras

Costs

Money-Back Guarantee

Safety & Life Protection

Monitoring

Smart Home Automation

Smartphone Controls
Installation
This might be the biggest difference when it comes to SafeStreets vs. SimpliSafe. When you get an ADT-monitored home security system, our SafeStreets' Smart Security Pros will provide you a concise one-hour window of time when they'll come to install the system. We pride ourselves in our 5-star customer service, making sure the system is set up and working properly from the start while also ensuring you feel comfortable with how to use it.
With SimpliSafe, you're stuck installing whatever equipment you got for your home security system yourself. This can be a time-consuming process when it's not something you do every day, and you won't get the confirmation and peace of mind that it's set up properly from a professional. 
Equipment & Hardware
While wireless systems are one option for systems, there are scenarios where a wired system might be the better option for your property. SafeStreets is the only company of the two that provides both wireless and wired home security systems. 
Additionally, SimpliSafe relies on their own manufacturing for their equipment and hardware while SafeStreets provides equipment manufactured by third party companies that create high-quality equipment and hardware that is built to last. 
Security Cameras
SimpliSafe just recently joined SafeStreets in offering outdoor security cameras while SafeStreets has offered a variety of security camera options for decades with the latest technology including indoor, outdoor, and doorbell cameras. 
Additionally, SimpliSafe cameras have to rely on your home WiFi while SafeStreets uses a combination of WiFi and Z-wave technology. Z-wave technology unifies all your system devices onto one wireless network to provide remote control and automated operation that's more reliable than typical WiFi. 
Money-Back Guarantee
While both SimpliSafe and ADT exceed the industry average of a 30-day money-back guarantee, ADT beats out SimpliSafe's 60-day with a 6-month money-back guarantee. This means you have an entire six months to test and use your system with the option to return your equipment and cancel your contract with no questions asked.
Contracts
Another big difference between SimpliSafe vs. ADT monitoring is the contract requirements. While SimpliSafe doesn't require a minimum contract and ADT's is usually 24-36 months, a quarter of the contract is covered by the 6-month money-back guarantee. This extended guarantee enables homeowners to make sure they're happy with the system they signed up for without any financial consequences (restrictions apply). However, we know that once you see the peace of mind ADT-monitored systems can provide, you won't want to cancel. 
Costs
Would you rather pay a little over a longer period of time or a lot all at once? When looking at SafeStreets vs. SimpliSafe costs, that's the question you'll have to decide. Home security is an important investment for your safety and peace of mind. It's often a lot more doable if you break up the costs over a longer period of time than having to fork it over all at once. SimpliSafe requires you to pay for all your equipment upfront which can be a big chunk of money to spend all at once. 
Alternatively, you can get an ADT-monitored system installed for an average of just $35 a month*. That's just a little more than a dollar a day for peace of mind that you're helping protect your home and everyone and everything 365 days a year.
*With $99 installation charge and new monitoring agreement. Early termination fee applies.
Safety & Life Protection
Both companies offer fairly similar safety and life protection products but the difference lies in its smart home integration and controls. Safestreets' full picture security and home automation systems allow every SafeStreets product to be integrated and monitored for the highest level of safety and security. 
Monitoring
When looking at SimpliSafe vs. ADT monitoring, ADT provides 24/7 monitoring with all of its home security and automation systems while SimpliSafe only offers it if you pay more. If you get their other plans without monitoring, you don't get 24/7 police, fire, or medical dispatch, video verification, or 24/7 temperature and flooding monitoring. SimpliSafe also doesn't own any of their monitoring centers, using third-party agents for monitoring.
ADT 24/7 monitoring means you can get help when you need it from over 18,000 fast response monitoring agents located in nine company-owned interconnected command centers across North America. ADT's monitoring services have never missed an alarm, keeping their eyes on your home 24/7, 365 days a year so you don't have to.
Smart Home Automation
Do you want some smart home automation or a truly connected home as smart as you are? That's the difference between SimpliSafe vs. ADT Authorized Provider-SafeStreets smart home automation. SimpliSafe does have smart locks and integrations with some third-party home automation products but ADT-monitored systems seamlessly integrate with more. 
Monitor and control your entire home with integrations like SONOS, Ring, Samsung devices, and more. Plus, the ADT Control App lets you easily control all smart home automation right from your smartphone. Smart plugs, door locks, smart lights, smart thermostats, and more can be easily adjusted for a more efficient and comfortable home setup. 
Smartphone Controls
Both SimpliSafe and ADT have a mobile app that allows you to access and manage your system remotely using your smartphone. However, the ADT Control App allows you to customize capabilities based on your home and system, creating a functional app that's as built for you as our customized security packages are. 
Theft Protection Guarantee
ADT takes the cake on this one by providing up to $500 of theft protection guarantee off your insurance deductible if a burglary takes place while your ADT-monitored security system is armed. SimpliSafe offers no such protection. 
When considering all these components of SimpliSafe vs. ADT Authorized Provider-SafeStreets, you can see why it's more than just our 5-star customer service that makes us a strong choice for smart home security. 
Choose a System That Fits Your Life
As ADT's oldest, largest, and most experienced Authorized Provider, SafeStreets can help you get the system that's fit for your home, family, and life. Each of our home security packages provides 24/7 monitoring and a customized installation plan that matches the needs of your family. Whether you want total control of your security through our mobile app or a traditional home security system, we have you covered. 
Let our team of licensed technicians help secure your home by getting in touch with us today for a free quote.