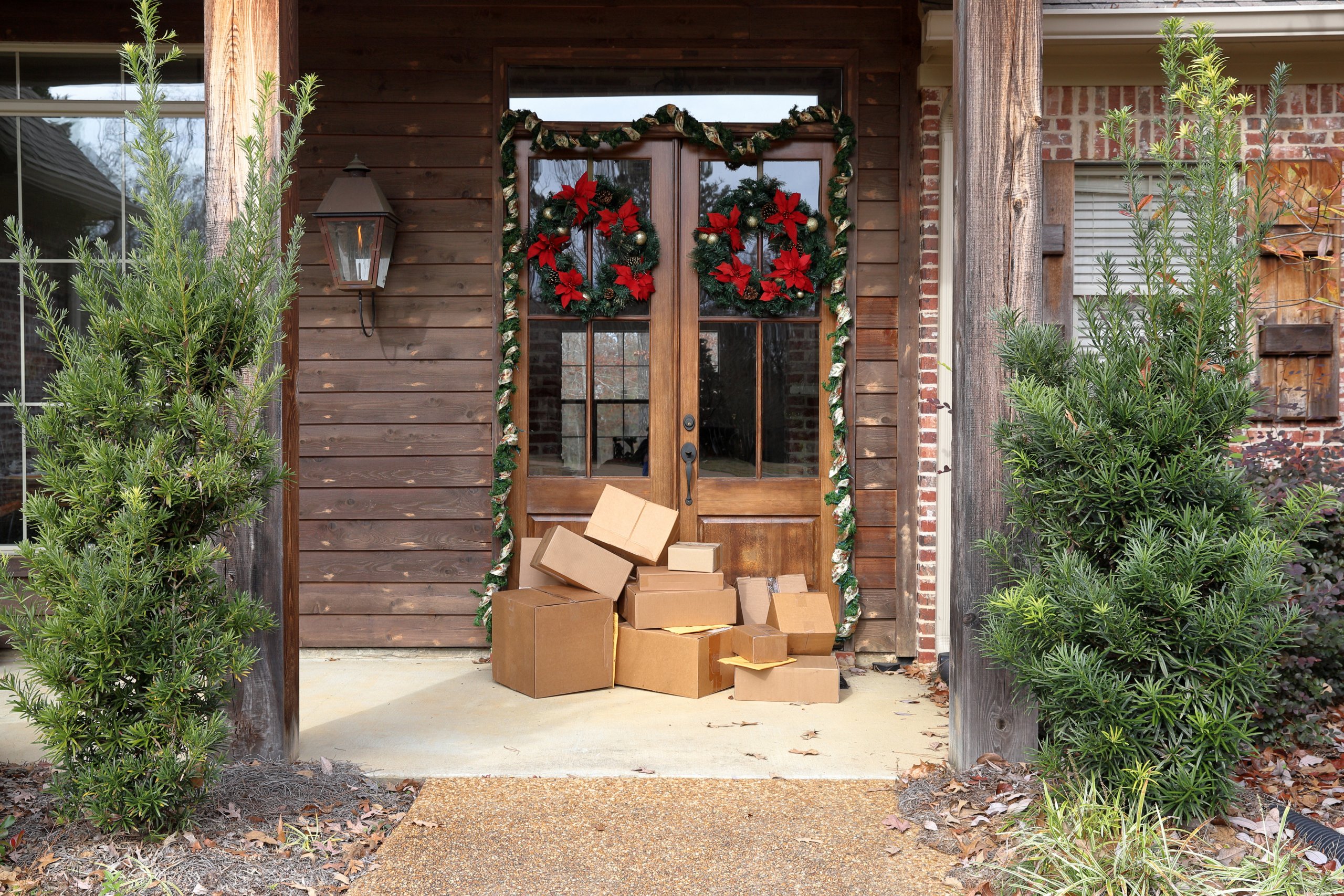 Over the years, home package deliveries have grown, and most people in America are familiar with them. Packages dropped on your doorstep are very convenient, after all. But no delivery company is used more than Amazon. Amazon ships billions of packages a year right to your doorstep. But as more and more packages are being left on porches, there has also been a growth in package theft. 
Porch piracy is becoming a huge issue. In 2021 alone, about 210 million packages were stolen off Americans' porches. If you've had a package stolen, you probably want to know what to do next. We'll walk you through three stolen package scenarios (shown as delivered, third-party, non-trackable packages) and what to do if an Amazon package is stolen. With millions of packages being stolen, it's something that could happen to anyone who orders online—if they don't have the right protection in place. So we'll also walk you through the right prevention protection to help keep your home safe. 
What To Do If You're Missing A Delivered Amazon Package 
Amazon is great at letting you know when packages show up at your door. You usually get a notification or an update on your account that shows packages as delivered. But what happens if you go to get your delivered package, and it's not there? That's when you have a missing "delivered" Amazon package. These are the steps of what to do next if this happens to you. 
Step 1: Check on Your End
The first step is to check everything on your end to make sure the package is stolen. Sometimes packages are accidentally left on your next-door neighbor's porch or your upstairs apartment neighbors. Sometimes small packages might be in your mailbox instead of on your doorstep. So before doing anything else, take some time to check everything on your end to make sure the package is truly missing. Here are some ways you can determine if your package is missing: 
Double-check your delivery address to make sure it's for your house

Check nearby and similar addresses to see if it was delivered there on accident

Look for Amazon's photo of the delivery 

Check every delivery location where the Amazon employee could have left the package

Check to make sure the package hasn't fallen off the porch or had something put on top of or in front of it
Once you determine that your package is missing, it's time to move on to the next step. 
Step 2: Wait 48 Hours
This second step might be the hardest step when you're waiting for a delivery or anxious that your package has been stolen. But waiting for 48 hours can help you solidly determine if your package has been stolen or if something else went wrong. This little window of time will provide you with evidence that something very wrong has happened with your delivery. After this waiting period, it will be time to report. 
Step 3: Report It
Once you've checked everything you can and waited to make sure it wasn't going to show up, it's time to report your Amazon package as stolen or missing. If you file your report within 90 days, Amazon will likely offer you a refund for your missing package—up to $2,500. So it's important to be on top of reporting your missing package, so the stolen package isn't costing you. Follow these steps to submit your report: 
Open up your Amazon account and find "Your Orders"

Find the right order and select "Problem with Order"

A list of problems will pop up. Select that the package hasn't arrived

Then select "Request Refund." If requested, fill out the additional information 

Your report is in 

To track your refund request, use the Amazon Pay tab. When your payment claim is approved, you'll know
What About Packages That Aren't Trackable?
Most Amazon packages have tracking information, but there are a few rare exceptions that aren't trackable. With trackable packages, you can check on your Amazon account for information on where it has been and if it was put on your porch. But with non-trackable packages, you don't have that option. So what do you do instead? 
Check everywhere it could be. Look in your bushes, go door-to-door to your neighbors to see if they got your package, and look at similar addresses to see if somebody accepted your package. Since you can't confirm with Amazon if it was delivered, it's best to perform a thorough check with your neighbors to see if they know where your package could be. 

If your package was delivered by USPS, contact them. Some non-trackable packages come through the postal service, and they may provide documentation on where your package could be. 
If non-trackable packages are something you receive somewhat often, you should definitely consider installing theft protection solutions, as these packages can be harder to track down. 
Missing Third Party Seller Amazon Packages
Some packages are fulfilled by Amazon directly, and some are fulfilled by a third-party seller, usually referred to as "Amazon Seller" on your order. If your missing package was fulfilled by a third-party seller, you will need to take a different approach to report the missing package. For these packages, you will still want to check everything on your property, neighborhood, and account and then wait 48 hours. If the package hasn't shown up then, you will report the package as missing or stolen in a different way: 
Go to your Amazon account and find "Your Orders"

Click on the "Amazon Pay" tab

Find the missing item and click the "Details" button next to it

An automatically generated message will appear. This message informs the third-party seller that you haven't received your product. You can edit this message to add any relevant information

Click "Send to Merchant" 

If the seller doesn't respond within 24 hours, you can file a claim with Amazon
In most cases, a third-party seller will provide a refund or replace the missing product. They may even investigate the missing product. Again, it's important to file your report as soon as you can, so you are more likely to receive compensation and the help you need. 
Does Amazon Replace Stolen Packages?
In most cases, Amazon does provide some kind of replacement or compensation for stolen packages. The company takes package theft very seriously and offers the "A to Z Guarantee" for customers. This guarantee means that your goods—whether from Amazon directly or through a third party—are covered up to $2,500. When you file a claim with Amazon, they will refund you up to that amount. Third-party sellers will likely replace the product, but if they aren't cooperating with you or responding to your request, then Amazon will also cover that reimbursement. If your package is stolen, it's worth reporting it quickly and properly, so you can get your money back. 
To get your refund, go to your Amazon account and "Your Orders." After finding the missing order, select that there's a problem with the order. Click that your package hasn't arrived and hit "Request a Refund." It may take a little while to get your refund, but make sure you're responding to any messages in your account to make sure you qualify. 
How To Avoid Package Theft
While there are some Amazon measures in place to make sure stolen packages aren't the end of the world, it's better to avoid the problem completely and not have your packages stolen. There are some precautions you can take now to help protect your packages from being stolen: 
Require a signature.

Use your order settings to require a signature from you before Amazon can leave the package. With this in place, you can always be sure that you get your packages. 

Send packages elsewhere.

If your porch isn't safe, you can set your delivery address elsewhere. You could have it sent to your work office. You could also have packages delivered to nearby Amazon lockers where you can pick them up with a code. 

Use the Amazon Key Smart Lock System.

Amazon has a somewhat new Key app that lets delivery employees leave packages directly inside of your home. To get this setup, you'll need a Prime account, the Key app, a

smart lock

installed by SafeStreets, and a Wi-Fi-enabled security camera.  

Install a porch home security system.

A porch

home security system

can scare potential porch pirates away, but it can also help catch them if they do go after your packages.

Outdoor cameras

will record what's happening on your porch while you're away, and

doorbell cameras

are another way to have eyes on your porch at all times. 
Help Protect Future Amazon Deliveries With SafeStreets
Here at SafeStreets, we want to help you protect your packages and keep your porch safe. We provide and install ADT-monitored cameras and doorbells that can help prevent stolen packages. Cameras can be a big deterrent against theft and help keep your packages on your porch. In a study conducted by the University of North Carolina Department of Criminal Justice and Criminology, researchers found that 60% of potential thieves check for cameras before they make a move. So simply installing the camera could help keep your home safe. 
But if something does happen, you'll also have ADT-monitored cameras that will provide you with evidence that your package was stolen and a team of security professionals that have your back. In fact, you can set up your camera to receive a notification when a package arrives, and you can keep an eye on it from your phone. If a theft still happens somehow, the video footage will help you receive full compensation for the theft. 
Ready to get help protecting your Amazon packages? Get a free quote from SafeStreets today!