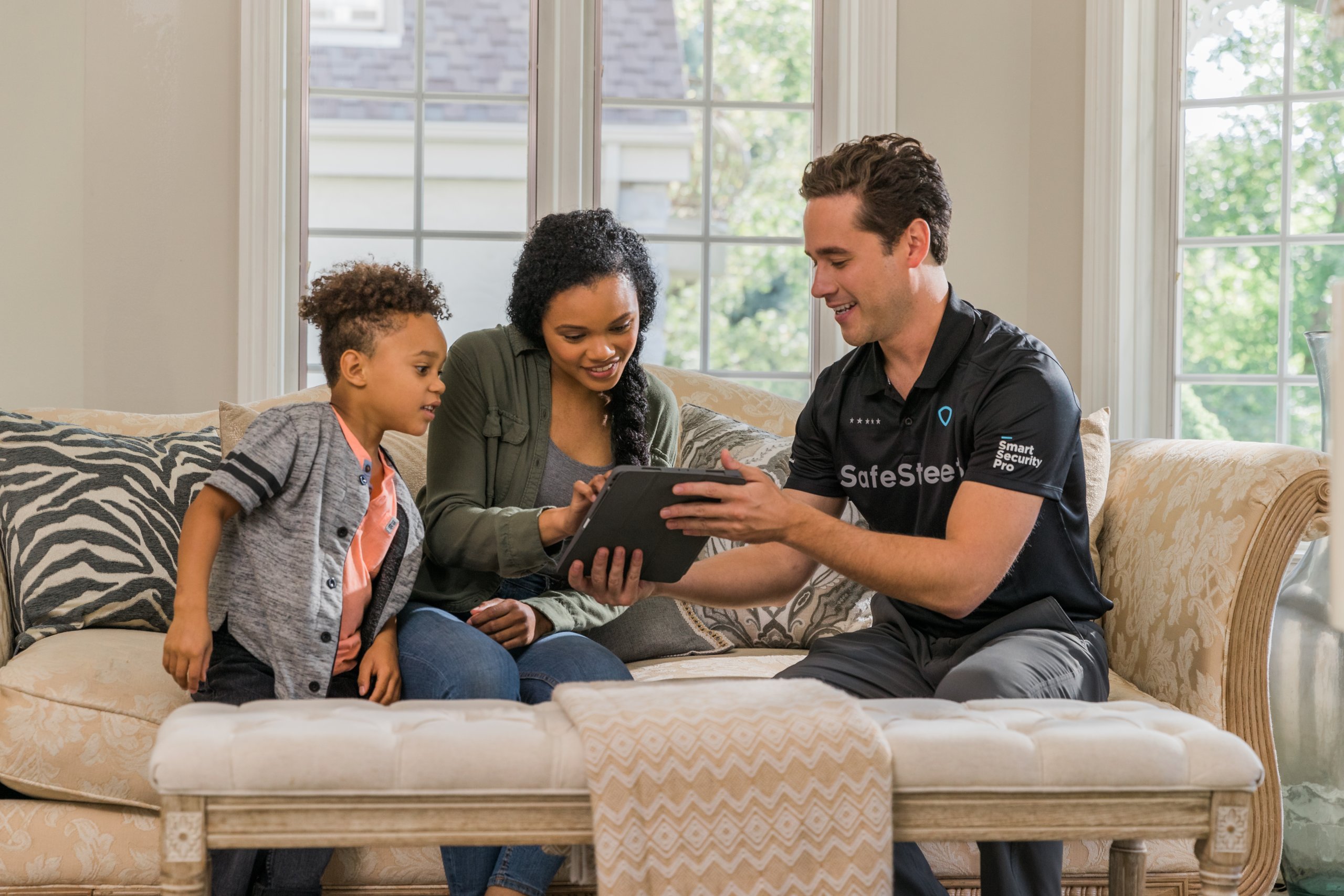 There are a lot of options for home security, so like most people, you're probably wondering the same thing: who's best? When it comes to a home security provider, there's none with more years of experience than ADT. In this blog, we'll compare SafeStreets' ADT-monitored products and services with Vivint security, so you can make the most informed decision when it comes to security and protecting your home and those you love. 
SafeStreets vs. Vivint Overview
Here at SafeStreets, we believe nothing about security should be left up to chance, and that's why we provide only the best with ADT-monitored security. Vivint and ADT-monitored systems from SafeStreets are both of the most popular home security choices out there, and there's a good reason for that. Both provide high-end security with some of the most advanced technology. However, Vivint was only founded in 1999 and sold to The BlackStone Group in 2012, serving 1 million customers. 
ADT, on the other hand, is the oldest security company in the country and has been a leader in home security for over 145 years. ADT serves over 6 million customers in 200 locations across the country. In addition, ADT also receives an A rating from the Better Business Bureau, where Vivint isn't even accredited. 
While Vivint has some impressive accomplishments, here's a quick snapshot of why ADT Authorized Provider-SafeStreets ultimately wins out when it comes to home security: 
ADT Authorized Provider-SafeStreets
Vivint

Free* starting equipment

*with $99 installation charge and new monitoring agreement. Early termination fee applies.

✔ 

✘

6-Month Money-Back Guarantee*

*restrictions apply

6 months

3–15 days

ADT Theft Protection Guarantee**

**restrictions apply

✔

Up to $500

✘

Company-owned monitoring centers

✔

9 ADT Monitoring Centers

✔

2

Contract length

24–36 months

1–60 months

Years of experience

146+

22
Is Vivint Better than ADT
Authorized Provider-SafeStreets
? 
The short answer? No. The long answer? Let's take a look at each of the following categories and break them down to help you decide for yourself: 
Installation

Equipment & Hardware

Contracts

Security Cameras

Costs

Money-Back Guarantee

Safety & Life Protection

Monitoring

Smart Home Automation

Smartphone Controls
Installation
Vivint requires its customers to use its professional installation services, which can help you get your system up and running. Some people worry that ADT-monitored systems are completely DIY, but at SafeStreets, we provide professional installation for you. Our SafeStreets' Smart Security Pros will provide you a concise one-hour window of time when they'll come to install the system. Our 5-star customer service will make sure your system is running properly. Vivint's customer service is ranked at 4 stars, so though both companies provide outstanding service, SafeStreets does rank higher. 
Equipment and Hardware
Both SafeStreets and Vivint provide top security equipment and hardware. Both companies also use a touchscreen device to control all of your security devices. The ADT Command panel has extremely simple and intuitive buttons that help you run your system with ease. 
Security Cameras
Both SafeStreets and Vivint provide security cameras that connect to your WiFi. Both SafeStreets and Vivint offer wireless cameras, but only SafeStreets also offers wired systems. So when it comes to security cameras, both are good, but SafeStreets wins out in versatility. 
Money-Back Guarantees
Money-back guarantees are a great way for you to test your security system and decide if it's the right fit for you. Both Vivint and ADT provide money-back guarantees, so you can return your equipment if it's not the right fit for you. Vivint offers your money back within 3–15 days after installation, but you'll still be penalized for the remainder of your equipment balance. 
ADT provides a much longer guarantee of 6 months. You can try your security system for half of a year and still get your money back if it doesn't work for you. A few days often isn't enough time to decide if something is the right fit, so 6 months will give you more than enough time to figure it out. ADT has a better money-back guarantee, though you probably won't need it after you try a SafeStreets ADT-monitored security system. 
Contracts
Both companies provide contracts for professional security monitoring. Vivint offers the option for monthly contracts up to 60 months. ADT offers contracts for 24–36 months. But it's important to note that 6 months of ADT's contract is the money-back guarantee time where you are still able to cancel the contract (restrictions apply). You can't back out of a Vivint contract once it's going, but the contracts can be shorter if you own your equipment instead of financing it. 
Costs
Vivint offers customers the opportunity to pay for their equipment upfront and own the equipment. This offer can work for some people, but for many people, it's extremely expensive to buy all the security equipment upfront. Vivint does offer customers the option to finance their equipment, but if customers choose this option, they can be locked into a 3–5 year contract. 
SafeStreets is more affordable than Vivint because you don't have to pay for the equipment out-of-pocket from the start. You'll instead pay a leasing fee for the equipment, which can be much more affordable for many people. SafeStreets' costs also include extended monitoring—something we'll discuss a bit later. 
Safety and Life Protection
Both SafeStreets and Vivint offer more than just security equipment: they also have life protection equipment that can protect your home from fire, flood, and carbon monoxide. Both companies offer carbon monoxide detectors and alarms, though it's important to note that Vivint's detector isn't wireless. 
Both companies also offer excellent fire safety equipment. SafeStreets' smoke detectors have some added features like distinguishing a cooking fire from a spreading fire, so you'll get different kinds of alarms. 
Both companies also offer water damage detection equipment that can sense leaks. SafeStreet's detector will send you a notice on your smartphone immediately if there's any kind of leak, so you'll be able to get that taken care of as quickly as possible. 
Extended Monitoring
Extended monitoring is an area where there's a big difference between Vivint and ADT monitoring. Vivint doesn't offer extended monitoring at all while ADT provides top-of-the-line monitoring. SafeStreets offers a variety of plans that can use a landline, broadband, or cellphone to link to your monitoring system. From there, you have increased ability to monitor your system. The most basic feature of the system is that you'll get a notification on your phone if somebody trespasses onto your property. When it comes to monitoring, SafeStreets is the clear winner. 
Smart Home Automation
Both SafeStreets and Vivint provide smart home automation. Both companies have a superior selection of smart technology equipment for your home: doorbells, locks, lights, plugs, thermostats, and more. 
SafeStreets, though, provides seamless integration with a variety of devices. From SONOS to Samsung devices and more, SafeStreets tech can integrate smoothly.  
Smartphone Controls
Both systems also use an app to monitor home security devices. Both apps work well for monitoring your security system, but customers seem to like ADT's app slightly more. On the Apple store, ADT's app ranks a 4.8 while Vivint ranks a 4.6. 
Theft Protection Guarantee
Another major difference between Vivint and ADT is the theft protection guarantee. Vivint doesn't offer the theft protection guarantee at all. ADT's theft protection gives customers increased peace of mind because nothing says contentment like a $500 guarantee. ADT is so confident in its ability to protect your home completely that it guarantees customers up to $500 off your insurance deductible if something does happen. 
It's an unlikely situation that you'll ever need the theft protection guarantee, but if you do need it, that $500 will make a big difference in recovering from a home invasion. The theft protection guarantee provides you with something Vivint can't: peace of mind. 
How to Choose a System for You
So Vivint or ADT Authorized Provider-SafeStreets? How to choose a home security system? When it comes to home security, SafeStreets wins out as the better option over Vivint. SafeStreets is ADT's oldest, largest, and most experienced Authorized Provider, and we can help you get the system that's fit for your home, family, and life. Our home security packages provide all the benefits of ADT—including 24/7 monitoring and a customized installation plan to match your needs. We can help you if you want a traditional home security system or total control through a mobile app. We've got you covered, whatever you need. 
Let our team of licensed technicians help secure your home by getting in touch with us today for a free quote.