Home Security Systems in Carmel, IN
Carmel, Indiana, is located just north of Indianapolis and is well known for its rich cultural and artistic heritage, as well as its many parks and recreational areas.
Carmel is considered a safe city, but it's still important to ensure that your home and family are well protected. Making the addition of a high-quality home security system is a great choice. SafeStreets offers home security systems that can be customized to meet each homeowner's specific needs. These systems include alarm systems, motion detectors, and door and window sensors. From basic to comprehensive, SafeStreets has a security system that will fit any budget.
Call For A Free Quote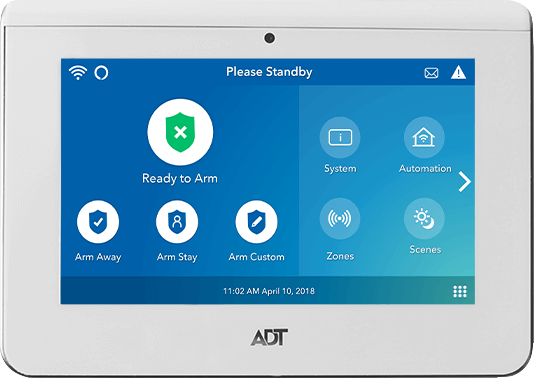 Help Keep Your Family Safe with Home Security Systems
Home security systems play a vital role in protecting families from theft, break-ins, and other crimes. By installing a home security system, residents can feel confident that their homes and families are safe and protected. Home security systems provide peace of mind and can help to deter criminals from targeting a house.
In addition to helping protect against crime, home security systems can also provide families with a sense of security and safety. In an emergency, home security systems can help alert authorities and ensure that help is on the way even if you are unaware of the emergency. Home security systems can provide an extra layer of protection for families with small children.
SafeStreets offers products that can be used to help secure a home, including door and window sensors, smart door locks, and glass break sensors.
Door and Window Sensors:

These devices on doors and windows detect when they are opened or closed. If a door or window is opened when it is not supposed to be, the sensor will send an alert to the home security system.

Glass Break Sensors:

Glass break sensors are placed near windows and glass doors to detect when they are broken. If a window or door is broken, the sensor will send an alert to the home security system. They can detect the sound of shattering glass from up to 25 feet away.

Smart Door Locks: Smart door locks are connected to the home security system and can be controlled remotely, allowing homeowners to lock and unlock their doors from virtually anywhere.
Security Cameras in Carmel, IN
Security cameras come in all shapes and sizes, but they all have one thing in common: they can help you keep an eye on your home, even when you're not there. Some of the different types of security cameras include indoor, outdoor, and wireless.
Video Doorbells
During the day, video doorbells can help you see who is at your door even when you're not home. They can also help you see if someone is lurking outside at night. The two-way communication feature also allows you to communicate with whoever is on the other side of your door.
Indoor Security Cameras
Indoor security cameras can be placed in any room of your home. They can be used to monitor activity in the house or to keep an eye on children and pets.
Outdoor Security Cameras
You can't be everywhere at once, but outdoor security cameras can help you monitor your property. Outdoor security cameras can be placed around the perimeter of your home to give you a better view of what's going on outside. The position is everything regarding outdoor cameras, so trust our experienced team to install them for you and ensure you are getting the most out of your devices.
Help Protect Your Family with Fire & Life Safety Systems
Fire and life safety systems help protect your family in case of a fire or emergency. They can provide an early warning so you can escape quickly and safely. They can also help protect your family from carbon monoxide and other dangerous gasses. For instance:
Flood Sensors

: When water is detected, an alarm sounds to alert you so you can take action to prevent flooding and damage from leaking appliances.

Carbon Monoxide Detectors:

These devices monitor the air for carbon monoxide gas. If high levels of carbon monoxide are detected, an alarm warns you so you can get to fresh air immediately.

Smoke Detectors:

Smoke detectors can detect smoke from a fire and sound an alarm to warn you. Smoke detectors should be installed in every bedroom, outside of every bedroom and on every floor, including the basement.
Home security systems are backed by 24/7 ADT monitoring. This means that there is always someone available to help in an emergency. ADT monitoring can help provide peace of mind and be an excellent resource for families.
Home Automation Products in Carmel, IN
A high-quality home automation system can help homeowners save time and money while adding a level of convenience to their lives. With complete control over your home's temperature, lights, and security, you can spend more time and resources doing things you enjoy.
Some of the products we offer include:
Smart Plugs:

Since you can control these with your smartphone, you don't have to worry about leaving the lights or appliances on when you leave the house.

Smart Lights:

These LED lights can be controlled with your smartphone. You can set a schedule, so your lights turn on and off at specific times. You can also dim the lights or change the color of the light.

Smart Thermostats: Thermostats are one of the most important ways to save money on your energy bills. By programming your thermostat, you can ensure that your heating and air conditioning are only running when needed. Smart thermostats can be controlled with your smartphone to make changes even when you're not at home.
SafeStreets Is Proud to Be an ADT Authorized Provider
Being an ADT Authorized Provider means that SafeStreets has met specific requirements and can offer the best possible service to our customers.
We are committed to providing our customers with the best possible service and products. We believe homeowners should work with SafeStreets to ensure they get the best possible service and products.
Contact us today if you are interested in any of our products or services!
Get A Free Quote Today